Rounding out Samsung's digital camera introductions at CES 2009 are two new models joining the company's popular and user-friendly SL-Series — the SL102 and SL420. Both new SL Series digital cameras feature a resolution of 10.2 mega-pixels, offer Face Detection and are powered by rechargeable Li-Ion batteries. The SL102 features a 3x optical zoom, Digital Image Stabilization technology, and a 2.5 inch LCD, while the SL420 goes a step further, addressing consumers' demands for larger LCD screens, longer zooms, and better stabilization.
The SL420 features a larger 2.7 inch LCD display, a more powerful 5x optical zoom that allows the shooter to get in close to their subject from far away, and Dual Image Stabilization, which combines the strengths of both Optical and Digital Image Stabilization to help reduce blur caused by an unsteady hand. The SL102 can record MJPEG / VGA video, and the SL420 can record MPEG4 / SVGA video.
The SL102 and SL420 will be available in Spring 2009.
SL102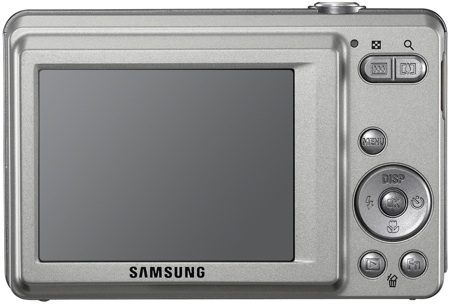 SL420