2.6-inch touch screen, full QWERTY keyboard and built-in 2-megapixel camera / camcorder
Samsung and U.S. Cellular just announced the availability of the Samsung Messager Touch™ (SCH-r630). The Messager Touch is a fashionable, feature-rich touchscreen messaging phone with a convenient slide-out QWERTY keyboard available in black and vibrant eye-catching blue.
"The Samsung Messager Touch is an exciting new addition to our messaging line-up," said Ed Perez, vice-president of marketing and sales for U.S. Cellular. "It's a very cool phone, and our customers can add their personal touch by customizing the functions."
The Samsung Messager Touch is equipped with a full 2.6 inch touchscreen display, which features Samsung's unique TouchWiz™ interface. The TouchWiz interface incorporates specially designed widgets that allow users to customize and personalize their phone, with instant access to their favorite functions. The Samsung Messager Touch comes equipped with a widget tray, which stores a users most commonly used widgets. The Messager Touch features preloaded widgets and other downloadable applications such as games, social networking applications and wallpapers through its easyedge(SM) services.
The slide-out QWERTY keyboard and touch screen on the Messager Touch makes it easy to view and send texts, videos and pictures via text message instantly. Equipped with a 2.0 megapixel camera and camcorder with up to 16GB of MicroSD memory support, users can capture photos and videos and store them instantly. The Samsung Messager Touch also includes a built-in music player to listen to all of your favorite tunes while on-the-go, Bluetooth capabilities for seamless hands-free communication, voice recognition software, speakerphone, three-way calling, speed dialing and one-touch dialing.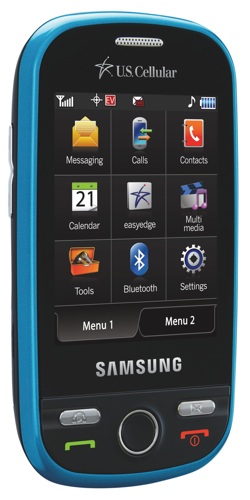 Key features include:
2.6 inch Touchscreen Display
QWERTY Keyboard
TouchWiz™ User Interface
2.0 Megapixel Camera with Camcorder
Music and Video Player
Text, Picture and Video Messaging
easyedgeSM Services: Downloadable Ringtones, Wallpapers, Games and Business Applications
Bluetooth Connectivity
Voice Recognition Software
Standard Rechargeable Lithium Ion battery: Up To 5 Hours
Dimensions: 2.12″ X 4.13″ X .59″ Inches
Weight: 3.81 Ounces
The Samsung Messager Touch is available today for $49.95 after mail-in rebate at U.S. Cellular retail locations.