Samsung R1
Samsung Electronics America, Inc. today launched two new portable media players, the R1 and R0, and announced pricing and availability for both. The players deliver high quality multimedia content while optimizing for memory space. The footprint of the R1 is smaller than the size of a credit card and can play a variety of video content without any conversion needed while the R0 delivers an excellent audio and video experience at an affordable value. Samsung's portable media players will be on public display at the Samsung Experience, located at The Time Warner Center in New York City beginning March 9, 2010.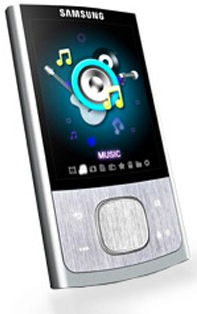 Samsung R0
"Samsung is keeping the portable media player experience fresh with these two new offerings. We've combined high quality movie and video capability with a superior audio experience all in two compact designs," said Reid Sullivan, senior vice president of the Mobile Entertainment Group at Samsung Electronics America. "The R1 and R0 are a great fit for anyone who wants easy access to all of their favorite music, movies, video and photos."
Offered in black and silver, the R1 offers a responsive, clear 2.4-inch TFT LCD touch screen with a "drag and drop" feature that allows you to easily enjoy audio/video files and libraries with the swipe of a finger. Keeping pace with your busy life, it has video, music and photo playback for up to 50 hours of audio and four hours of video enjoyment. Small in size, the R1 still offers plenty of space for video content and is ideal for popping in your pocket when you're on the go. Within its tiny package, it includes an FM Radio and Recorder as well as voice recording and can also be paired with a Bluetooth TM enabled headset.
The R0 comes in a compact package as well, with a bright 2.6-inch LCD display making the experience of what you watch as bright as what you hear. Navigation is also easy with the addition of tactile keys. Offered in black, silver and pink, it is well suited for those on the run, playing up to six hours of video and 30 hours of audio. For fans who can't get enough of their favorite music, movies and videos, it also offers an option for expanded memory space with the inclusion of a Micro SD slot.
To ensure users get the best in audio quality, both the R1 and R0 incorporate Samsung's Digital Natural Sound Engine (DNSe) 3.0 sound enhancement technology. Being DNSe 3.0 enabled, users can enjoy higher sound quality that reproduces more natural effects and accurately matches the tone and feel originally intended. Additionally, both offer DivX so users can download more video content without sacrificing as much space. Both players come in 8GB and 16GB.