The Samsung Q-, R-, X- and P-Series Notebooks and NC10 Netbook Offer Great Style and High-End Features; Ideal for Enterprise, SMB and Consumer Use
Samsung Electronics America, a subsidiary of Samsung Electronics Corporation, a global leader in digital media and digital convergence technologies, today announced its highly anticipated entrance in the U.S. notebook market. The product line-up includes notebooks in four different categories–Premium Thin & Light, All Purpose, Business, Desktop Replacement and the Netbook segment.
"With Samsung's entry into the U.S. notebook market, we are now able to provide a complete PC computing solution to our customers," said Christopher Franey, vice president of Marketing and Commercial Sales at Samsung Electronics Information Technology Division. "The introduction of Samsung's premium notebook offerings to the U.S. market solidifies Samsung as a global technology leader, providing advanced mobile computing designs of the highest reliability and quality."
The X360 and X460 are 13.3- and 14.1-inch premium ultra thin-and-light notebooks with an MSRP starting at $1,599. The X360 is "lighter than air," weighing in at under three pounds and achieving up to an incredible 10 hours of continuous usage. Both support Samsung's latest 300 nits SuperBright LED backlit LCD display.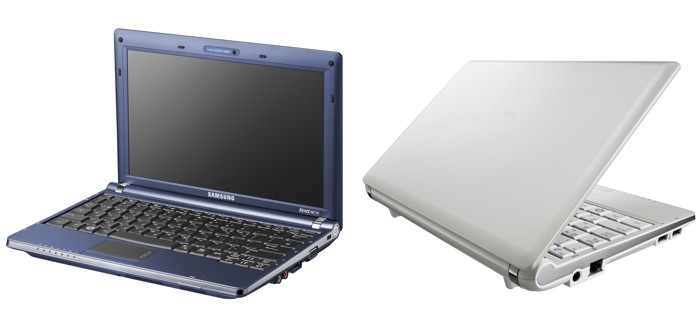 Samsung's NC10 is a netbook with a 10.2-inch wide SuperBright LCD, enhanced capacity battery and huge 160GB hard drive, carrying an MSRP of $499. The Q310 is a highly portable all-purpose notebook with MSRPs of $1,149 and $1,299, featuring a 13.3-inch wide LCD. The R610, with an MSRP of $1,049, is a desktop replacement that features a 16-inch wide LCD.

Completing Samsung's entry to the notebook market is the enterprise-focused P460 and P560, which are semi-ruggedized notebooks with an MSRP range of $1,149 to $1,399. All of Samsung's notebooks will initially be available throughout the traditional IT reseller channel, including distributors Ingram Micro and D&H direct marketing resellers including CDW, PC Computing, Insight and PC Mall; and at most major online e-tailers, including Amazon.com, NewEgg.com, Buy.com and TigerDirect.com.
High-Impact Design, Full-Featured Performance, Premium Products
Each notebook (with the exception of the NC10 Netbook) will feature the latest Intel Centrino 2 processor technology with Intel Core™2 Duo Processors, 3 gigabytes of system RAM, 802.11 a/b/g/n WiFi, 1.3MP webcam, 3x USB 2.0 ports, Gigabit LAN, Bluetooth 2.0 and HDMI output. With these top-end specifications, Samsung's notebooks are designed and built for the customer seeking the latest technologies integrated into highly mobile platforms. Samsung's famous Touch of Color design — with its black to red color gradation featured on HDTVs and desktop monitors — will also be found in the Q- and R-series notebooks.
Samsung is a global leader in digital convergence technologies, as well as a leader in the design and manufacturing of components for mobile computers, allowing the company to offer more flexibility in the design and functionality of its products. More than 80 percent of the core components that go into Samsung notebooks are Samsung-branded–from memory to hard drives to the LCD and the batteries. This sets Samsung apart from its competitors, as the company controls every aspect of each notebook, from its chassis design to its hardware and software integration. For example, Samsung notebooks are designed so all power supplies and batteries are interchangeable across the entire notebook line (netbook excepted).
Samsung's NC10 netbook will be available in white or metallic blue color options. It will feature such high-end specifications as a 160GB hard drive and a 10.2-inch wide 1024 x 600 display. It will also come with a full host of I/O ports and 802.11 b/g, Bluetooth 2.0 + EDR and a built-in 1.3 mega-pixel webcam. Most impressive is the 93 percent full-size keyboard and its standard 5200mAH high capacity 6-cell Lithium Ion battery, providing up to eight hours of use on a full charge. Samsung's netbook, unlike a notebook, is designed for consumption rather than creation. With that in mind, a focus on usability and data consumption resulted in the decision to include a large hard drive and make sure long battery life was a key component.
The Samsung Q- and R-series feature the latest Intel Centrino 2 mobile processors, advanced graphics, large hard drives and its unique Touch of Color glossy design at very compelling prices. These models are great full-featured notebooks that look and perform well both desk and portable environments.
Samsung's X-series highlights a huge emphasis on ultra portability and design without compromising performance. The X360 and X460 have rugged magnesium alloy chassis and a strength-providing aluminum plate behind the LCD, a "pebble"-style keyboard, and lightweight components that bring new meaning to the phrase "thin-and-light." Lightest in its class, the X360 at 2.8 pounds and the X460 at just 4.18 pounds, combine sleek design with robust and feature-rich facets of mobile computing.
Samsung's P-series business notebooks have a non-glossy display with an Ambient Light Sensor (ALS) adjusting the display brightness to optimize viewing. It also has a ruggedized chassis and LCD, Trusted Platform Module (TPM) with biometrics-based system security, spill resistant keyboard and hard drive shock protection. In addition, it will include a host of I/O ports, including legacy ports such as PCMCIA (PC Card), RS-232 (9-pin) serial and a 56k modem, which are still important in today's enterprise market.
As part of Samsung's promise of premium products, there will be an exclusion of any unnecessary software that most competitors include in the systems. The only trial software that will be included in each Samsung notebook and netbook is Microsoft Office Professional 2007 and McAfee Virus Scan 60-day trials. Each unit will include a full host of Samsung utility software that helps with system recovery and data backup, battery life management, performance boosting, network connectivity and hardware/software system diagnostics software.
Distinctive Design and Feature-Packed:
Samsung X Series
The Samsung X360 and X460 are premium thin-and-light notebooks that combine unique design with ultimate functionality.
13.3- and 14.1-inch wide LED backlit LCD displays with 300 nits of brightness
128GB Solid State Drive Option
Only 2.8 lbs. and up to 10 hrs. for X360 (a)
Only 4.2 lbs. and up to 5 hours for X460 (a)
Microsoft Windows Vista Business
Samsung P Series
The Samsung P460 and P560 are business notebooks that feature ruggedized components and a business friendly design.
NVIDIA GeForce 9600M GS dedicated graphics
Spill resistant keyboard & shock resistant hard disk drive
Fingerprint reader and TPM system security
Intel AMT 4.0 support
Microsoft Windows Vista Business
Samsung Q Series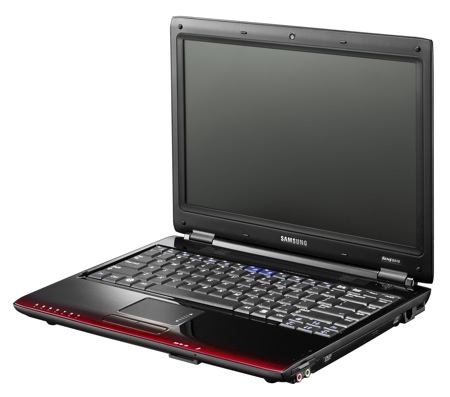 The Samsung Q310 is a 13.3-inch wide notebook that blends portability with the power of a desktop replacement.
Intel Centrino2 processor
250 or 320 GB Hard Disk Drives
Express Card 34 expandability
DVD +/-RW Dual Layer Disk Drives
Microsoft Windows Vista Business
Samsung R Series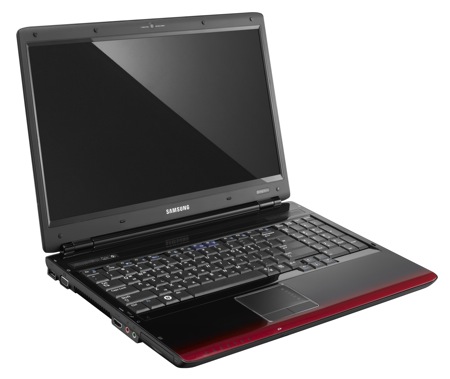 The Samsung R610 is a 16-inch wide, 16:9 aspect ratio notebook with HD resolution, an integrated 10-key pad and discrete, dedicated graphics.
512MB NVIDIA GeForce 9200M GS graphics
250GB Hard Drive
802.11 a/b/g/n
Microsoft Windows Vista Home Premium
Samsung NC10 Netbook
The Samsung NC10 is a high-end netbook with a 10.2-inch wide screen and 160GB hard drive.
1.6 GHz Intel Atom Processor
1 GB DDR2 800MHz RAM
6-cell high capacity battery
Microsoft Windows XP Home SP3
(a) Errors and omissions accepted. Battery life based on Battery Mark test scores that will vary based on configuration.
All Samsung notebooks will be available through Samsung's resellers' network, which can be located by calling 1-800-SAMSUNG. For more details and full specifications of each model, please visit www.samsung.com/notebooks.
Samsung Notebook Reviews
From Critics Around the Web