Sprint Power Vision Phone M510 by Samsung and Sprint Vision Phone M300 by Samsung Packed with Advanced Features
Exclusive to Sprint, both phones offer attractive color options and features designed for instant entertainment and connectivity
Sprint Power Vision Phone M510 by Samsung Fact Sheet (pdf)
Sprint Vision Phone M300 by Samsung Fact Sheet (pdf)
Bringing customers a combination of fashion and functionality, Sprint (NYSE: S) and Samsung Telecommunications America (Samsung) today announced the availability of the Sprint Power Vision Phone M510 by Samsung and the Sprint Vision Phone M300 by Samsung. Both wireless devices come packed with advanced features designed to make life simpler, including a quality camera, Bluetooth technology, easy-to-use menus and multimedia capabilities.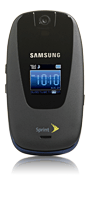 Operating on the Sprint Mobile Broadband network, the M510 by Samsung provides easy access to Sprint's exclusive multimedia content, including Sprint Music Store(SM), offering quick over-the-air music downloads. The M510 by Samsung supports Sprint TV(SM) with more than 50 channels of television programming, more than 20 of them with live content.
The M510 by Samsung also features a Sprint Theme with quick links to Sprint Music Store, text messaging and the On Demand 2.0 application, which allows users to retrieve up-to-date web content such as sports, weather, news and movie times, with the push of a button. The M510 by Samsung is available in both hot pink with black accents and black with blue accents. Designed for customers looking for a great value in a wireless phone without sacrificing "must-have" features, the M300 by Samsung provides tools to help users stay connected when they need it most, including web access, e-mail and text messaging. This attractive phone offers downloadable games, a VGA camera with digital zoom and PictBridge support. The M300 by Samsung is available in both dark silver and misty rose red.
"Both the M510 by Samsung and the M300 by Samsung give customers the ability to instantly do more with their wireless phone," said Danny Bowman, vice president of customer equipment for Sprint. "We expect these new, fun colors to be very popular." "Samsung is excited to introduce the M510 and M300 as the latest additions to the Sprint phone lineup," said Peter Skarzynski, senior vice president at Samsung Telecommunications America. "Both of these phones offer premium feature packages at a reasonable price to our loyal customers."
The M510 by Samsung measures 3.74″ x 2.0″ x 0.64″ and weighs just 2.9 ounces. It will be priced at $129.99 with a two-year service agreement. The M300 by Samsung measures 3.58″ x 1.85″ x 0.68″ and weighs less than 2.7 ounces. It will be priced at $29.99 with a two-year agreement.
Both devices are available at www.sprint.com or by calling 1-800-Sprint1. The M300 by Samsung is available now at all Sprint retail locations and the M510 by Samsung will be available in Sprint retail locations in June. Standard text and Vision charges apply to premium content and media features.
Customers purchasing the M510 by Samsung or M300 by Samsung as a replacement for an existing mobile phone are encouraged to donate their current phone, battery and accessories to Sprint Project Connect. Donated equipment, regardless of make, model or service provider, will be recycled in an environmentally friendly manner or refurbished and resold with proceeds benefiting K-12 education. More information, including a prepaid mailing label, can be found at www.sprint.com/projectconnect.