New HMX-H106 is the World's First Camcorder to Feature a 64GB Internal SSD
Samsung Electronics America, Inc. extended its family of full-HD digital camcorders with four new models – the HMX-H106, HMX-H105, HMX-H104, and HMX-H100. Samsung's new H-Series offer users high-performance, full HD video, a renowned Schneider Kreuznach Varioplan HD lens with Optical Image Stabilization, and industry leading design; however, most notable is the use of internal Solid State Drives to provide onboard memory.
HMX-H106
The HMX-H106, Samsung's new flagship full-HD digital camcorder, is the world's first to feature an internal 64GB Solid State Drive (SSD)*. Samsung's renowned SSD technology offers a substantial advantage over the use of Hard Disk Drives (HDD) in a digital camcorder, providing consumers with higher performing and more durable internal memory. In comparison to HDD, Samsung's SSD technology is more lightweight and compact, operates silently with very low heat emission, and features no moving parts, which significantly reduces overall power consumption and enhances reliability. No moving parts also make SSD technology more durable and resistant to shock and vibrations, which pose a considerable threat to the performance of HDD based digital camcorders. Additionally, Samsung's SSD technology is faster than HDD, including quicker boot-up and read/write speeds which is required for the amount of data recorded in full-HD resolution. When actively reading and writing data, Samsung's SSD technology consumes approximately 1/8th of the power of a comparable HDD**.
The HMX-H105 and HMX-H104 offer 32GB and 16GB SSDs, respectively, and like the HMX-H106, also allow consumers to expand memory capacity using an SD/SDHC memory card. The HMX H100 does not feature an internal SSD and requires the use of a SD/SDHC memory card.
The new H-Series full-HD digital camcorders also utilize H.264 compression, which significantly increases recording time. At full-HD resolution and when set to fine mode, users can record up to three hours directly to the 16GB HMX-H104, six hours to the 32GB HMX H105, and an unparalleled 12 hours to the 64GB HMX-H106.
Producing a high-quality image starts at the lens, which is highly regarded as one of the most important components of a camcorder. Precision optics are paramount in helping produce inspiring video and Samsung's H-Series camcorders underscore this assessment by incorporating world renowned Schneider optics. The camcorders' Schneider Kreuznach Varioplan HD lens features a 10x optical zoom and is paired with Samsung's new Optical Image Stabilizer to help reduce the blur found in footage as a result of vibrations and hand shake.
The Schneider lens also features a 37mm wide-angle focal length. Unlike other camcorders offering a typical angle of view of 40~50mm, the H-Series' 37mm wide-angle Schneider lens allows users to fit more of their desired scene into the frame, making the camcorder ideal for recording large groups of family or friends, breathtaking landscapes or even capturing all the action at sporting events.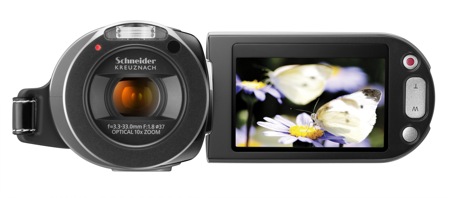 The trusted Schneider lens also helps capture remarkably clear and sharp video with accurate color reproduction. The H-Series' direct HDMI connections allow consumers to effortlessly enjoy their full-HD content on their HDTV without the need for proprietary docking cradles. Consumers can also utilize the camcorders to take more than just stunning high definition video, as each offers a built-in strobe flash and the ability to capture 4.7 mega-pixel digital still photos.
"This new series of high-definition digital camcorders clearly speaks to Samsung's commitment to providing today's consumers with the most advanced and highest performing digital imaging technology," said Tony Sorice, Vice President of Sales and Marketing for Digital Imaging at Samsung Electronics America. "Our ability to leverage the synergies that exist across our various businesses in the design and manufacture of digital camcorders and cameras, allows us to better meet customer demands and bring higher-performing digital imaging solutions to market faster and more efficiently."
At the heart of Samsung's new H-Series of full-HD digital camcorders is a high performance CMOS imaging sensor. Measuring 1/4.5 inches, the CMOS sensor boasts 2.2 mega-pixels and yields impressive light sensitivity helping enhance the overall imaging experience for the end-user. The camcorders also offer a large 2.7 inch touch screen LCD, which serves as the gateway to the camcorders' comprehensive suite of features. The swiveling LCD also gives users access to key camcorder controls, including record and zoom. When utilized in conjunction with Samsung's proprietary swivel grip, the additional placement of controls on the LCD screens allow users to effortlessly control the camcorder at low or high angles.
The camcorders also feature a HD Time Lapse recording mode that will give consumers the ability to experiment with their creativity. When shooting in the Time Lapse recording mode, the camcorder will record a single image at an interval pre-selected by the user, either 1, 3, 5, 10, 15, or 30 seconds, and will save each image as one single movie file.
The H106 will be available in April 2009
The H105, H104, and H100 will be available in March 2009
* Note: World's first claim is as of January 5, 2009
** Note: Estimated value with 3GB/second, 2.5 inch HDD, 5400 RPM