Stylish Compact Design and QWERTY Keyboard Offers Fashion-Forward Customers the Ability to Stay Connected
Samsung Telecommunications America (Samsung Mobile), a leading mobile phone distributor in the U.S. and U.S. Cellular announce the availability of the Samsung Gloss™ (SCH-u440). The compact flip design of the Samsung Gloss makes it fashionable and functional, while the QWERTY keyboard is ideal for people who want to quickly send a text message to a friend.
Available in pink and charcoal, the Samsung Gloss is equipped with stereo Bluetooth for easy hands-free communication, a built-in 1.3 megapixel camera and music player. The Samsung Gloss supports up to 16GB of external memory for storing music, pictures or videos.
"Customers are looking for more out of their cell phones every day," said Alan D. Ferber, Chief Marketing Officer at U.S. Cellular. "The Samsung Gloss offers a full QWERTY keyboard for easy texting as well as a built in camera and music player to make this phone a unique all-in-one device.
The Samsung Gloss also includes easyedgeSM, U.S. Cellular's suite of enhanced wireless data application services. easyedgeSM allows customers access to Your Navigator with voice turn by turn directions, news and weather applications, games and hundreds of other useful applications. The phone also comes preloaded with Tone Room, a ringtone shop that is updated daily with music from every genre and City ID, an enhanced Caller ID feature that displays the city and state of incoming calls.
Key features of the Samsung Gloss include:
Full QWERTY Keyboard
Stereo Bluetooth Enabled
1.3 Megapixel Camera
Music Player
easyedgeSM Service
Dimensions: 2.55″ x 2.94″ x .82″
2.2″ QCIF 262K TFT (Landscape)
The Samsung Gloss is available at U.S. Cellular retail locations.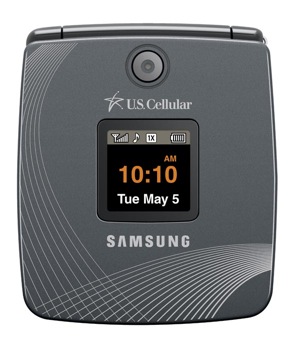 About U.S. Cellular
The 9,000 associates of U.S. Cellular believe a wireless phone enhances people's lives and a wireless company should be in the business of bringing people together. U.S. Cellular has a wide range of monthly plans, including those with unlimited nationwide calling, unlimited free incoming calls and options to prepay. The company has a growing catalog of phones like the BlackBerry Curve, HTC Touch Pro and the touch-screen Samsung Delve, which offer e-mail and Web access. Based in Chicago, U.S. Cellular is the nation's fifth-largest full-service wireless carrier, serving 6.2 million customers across the country.