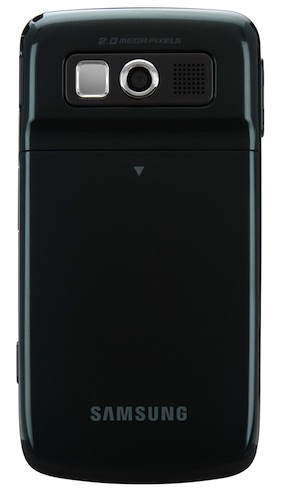 Feature-Packed Smartphone Equipped with Windows Mobile 6.5 Platform
Samsung Mobile and U.S. Cellular announce the availability of the Samsung Exec™ (SCH-i225). The Exec is a slim, power-packed smartphone that offers users functionality and a wide array of features.
"Many of our customers are multi-taskers who want smartphones that helps them get their work done even when they're out of the office," said Ed Perez, vice-president of marketing and sales for U.S. Cellular. "The Exec delivers on this need and most important, keeps them connected with family and friends."
Equipped with a Microsoft Windows Mobile 6.5 platform, Exec users can access personal and corporate email through Microsoft Office Outlook ActiveSync. The Exec also features other Microsoft Office programs including PowerPoint Mobile and WordMobile to increase mobile productivity at work or home. The Microsoft Windows Mobile 6.5 platform on the Exec allows users to personalize their phone with the Windows Mobile Device Center, which synchronizes their favorite music, pictures and videos.

The high-speed HTML browser and spacious full QWERTY keyboard on the Exec offers users a powerful entertainment and social networking feature set, including one-touch access to all the latest Widgets and social networking sites like Facebook™, MySpace™, Twitter and Flicker. The Samsung Exec also has an array of messaging features including text and picture messaging and access to instant messaging through Windows Live™ Messenger.
The 2.0 megapixel camera with camcorder enables users to take photos and videos in an instant, while Bluetooth capabilities offer users seamless hands-free communication. Additionally, the Exec is equipped with a built-in music player and optional external memory up to 32GB.
Key features of the Samsung Exec include:
Windows Mobile 6.5 Standard
Microsoft Office Outlook ActiveSync
Microsoft Internet Explorer
Microsoft Windows Live™Messenger
Microsoft Windows Media Player
Microsoft Windows Marketplace
Adobe Reader LE 2.5
Stereo Bluetooth Connectivity
2.0 Megapixel Camera/Camcorder
Text, Picture and Video Messaging
Personal Tools: Calendar, Alarms, Anniversary Reminder, Tasks
Optional External Memory Up to 32GB
Up To Talk Time: 8 hours
Dimensions: 4.61″ X 2.36″ X .45″ inches
The Samsung Exec is available at U.S. Cellular.