Samsung announced the 12-megapixel EX2F Wi-Fi-enabled SMART compact digital camera, engineered to deliver super-bright photography thanks to its F1.4 lens. With Full Manual Control in a strong but lightweight body, the EX2F is ideal for DSLR-owners looking for more portable equipment to capture images spontaneously and subtly, and for photographers looking for a step-up in quality from their point-and-shoot whilst retaining ease-of-use and portability. In addition, the camera's Wi-Fi feature allows images to be stored and shared remotely, with Auto Backup to a PC or saving to the Cloud.
The Samsung EX2F, replaces the EX1's F1.8 lens with a F1.4 24mm lens and 1/1.7″ 12 Megapixel BSI CMOS sensor for clearer images and video in very low light conditions. Aperature is controlled using the professional front wheel key and Dual Dials, which enable switching between parameters and modes quickly for greater manual control.
1080/30p Full HD Movie Recording with stereo sound allows users to capture video in high enough quality to enjoy on a Full HD TV. The EX2F also allows still 12 Megapixel photos and video to be captured simultaneously using the Dual Capture feature, so that any scene can be shot as both photo and video.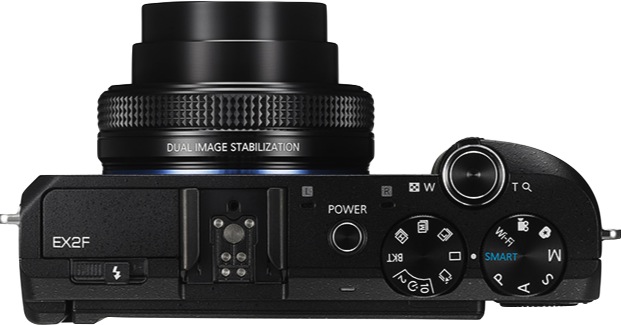 The EX2F's F1.4 24mm wide-angle lens is approximately four times as bright as a F2.8 camera lens. A further development is that the lens unit now consists of eleven elements in nine groups, with four aspherical lenses and two high refractive lenses. Combined, these provide a 20% increase in the amount of light on the sensor, a 20% increase in image quality and a 10% increase in zoom ratio.
The lens on the EX2F also incorporates a Neutral Density (ND) filter, giving the user greater control over exposure time in different conditions and making photos appear more neutral in situations of over-exposure. It also allows for shooting at a very shallow depth of field, so users can isolate their subjects from backgrounds to create stunning portraits. To make bright images clearer, the EX2F also includes Dual IS (OIS and DIS) to minimize the effect of shaking — particularly useful in low-light situations.
Housed in a sleek yet durable high-intensity magnesium body, more commonly found on DSLR models, the EX2F combines high-end image quality with convenience and speed. For those accustomed to the level of creative control on DSLRs, the EX2F allows for shooting in RAW mode for professional standard pictures.
The 3.0″ Swivel AMOLED display is perfect for lining up great shots and viewing them under any light conditions — and does so whilst consuming little battery power. The screen responds swiftly and displays images in high contrast, while the swivel display allows picture-taking from low and high angles — even self-portraits. The screen also incorporates Samsung's Smart Panel user interface, which integrates all parameters into one display for easy control over the end result.
The EX2F's Mobile Link opens doors for connectivity with smartphones, without even having to resize images or video. Users can also access the Remote Viewfinder to use their smartphone's screen to frame shots from a variety of angles. Through the SMART LINK button, all these functions can be accessed with one touch for simplified sharing and storage.
Price and Availability
The Samsung EX2F SMART Camera will be available August 2012 for $499. See more digital cameras.