Samsung unveiled its new 75-inch flagship 3D LED-backlit LCD HDTV offering a larger-than-life, extra-premium experience along with a timeless new design concept incorporating a beautiful rose-gold-colored finish and super-slim 0.31-inch curved bezel with no visible seams.
The new Samsung ES9000 LED Smart 3D TV includes a built-in camera, usable for video calling applications such as Skype, hidden within the top of the bezel, rendering it invisible and disabled when not in use; when in use, the built-in camera pops up. The ES9000 also comes with four pairs of 3D glasses, ensuring the whole family can enjoy an immersive experience.
The ES9000's picture quality provides an enhanced Smart TV experience, utilizing Samsung's Micro Dimming Ultimate and Precision Black Local Dimming technology to deliver richer, more optimized color and detail; the highest contrast ratio on a Samsung Smart TV to date; and the best picture quality available on a Samsung LED TV.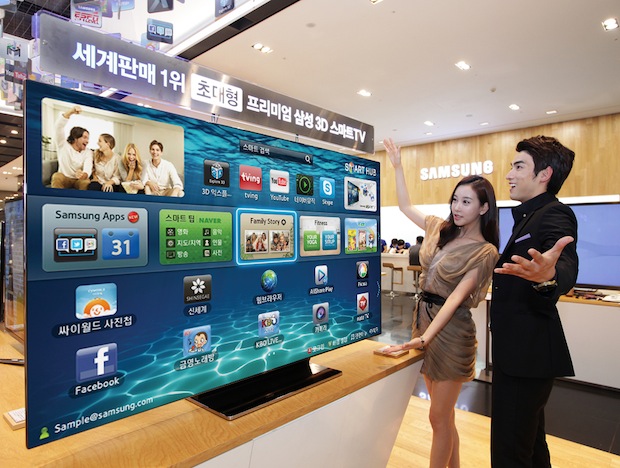 The ES9000 includes the complete suite of Samsung Smart TV features–Smart Interaction, Smart Content and Smart Evolution–that were introduced earlier this year. Smart Interaction enables users to control and interact with their TVs in a more intuitive way through voice, gesture and face recognition controls. Smart Content makes available a broad range of premium and signature content that can be shared across multiple devices. Smart Evolution, available on select Samsung Smart TVs, allows users to upgrade TV performance, content and features with a Smart Evolution Kit — sold separately beginning in 2013.
The ES9000 also includes Sound Share, the newest innovative Smart TV feature, which automatically and wirelessly connects TV audio to Samsung's Series 6 and Series 7 Wireless Audio with Dock Systems via Bluetooth. The ES9000 also offers a fast and seamless Smart TV experience with a dual-core processor that allows consumers to download and use multiple apps or browse the Web more quickly.
Price and Availability
The Samsung ES9000 will be available August 2012 at specialty retailers in the U.S. for $9,999, after first debuting in Korea in early July. See more HDTVs.