Samsung announced the 16-megapixel DV300F DualView digital camera offering a 1.5-inch front LCD and a 3-inch rear facing LCD screen, along with Wi-Fi connectivity. Additional features include a 5x optical zoom and 25mm wide-angle lens.
Users can be confident of doing justice to even the most challenging shot, be they behind or in front of the lens. This is easier than ever, with the addition of Child Mode animation to keep little ones focused, and the visual Self Timer to put yourself in the picture without the panic.
The DV300F is the first DualView model to offer Wi-Fi enabled technology, enabling users to email their images or upload them to Facebook, Picasa, Flickr and YouTube in an instant. Users can also save their special images onto the camera's microSD memory card, which are then wirelessly connected to the home PC and downloaded instantly to share and enjoy. Alternatively, they can also take advantage of integrated free storage space from Samsung's AllShare Play and Microsoft SkyDrive to make their photo accessible anywhere.

Get Creative with Magic Frame and Picture-in-Picture Shot
The DV300F is crammed full of fun features to maximise users' enjoyment. The Magic Frame feature includes 12 fun background templates, as well as the ability to create poster-quality art, perfect for sharing or hanging on your walls. The camera's Picture-in-Picture function, meanwhile, lets you insert one image with another. You can even impress your friends by combining a still picture with a video clip and instantly upload to YouTube or your favorite social networking site. Then just sit back and watch your 'Likes' go through the roof!
Maximize enjoyment with latest Photo shot features
With Split Shot, you can merge up to three different images to create your very own artistic masterpiece! You can even import pictures from other cameras. The fun doesn't stop there — Funny Face allows you to add goofy grins, comical noses or even crazy eyes to shots of friends and family and comes in eight different modes.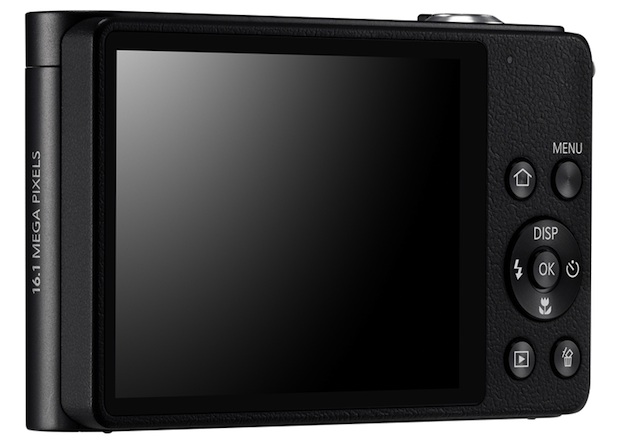 The innovative new Artistic Brush feature can instantly take a portrait or landscape shot or even a movie clip and transform it into a black and white sketch or full color version just like an artist would! You can then show off your artistic creation via the camera's LCD, or simply upload your creation to social networking sites or YouTube to ensure everyone can take a look at your creative masterpiece or latest profile picture with a twist.
Finally, the model also includes Motion Photo, so that — just like in the latest Hollywood blockbuster — you can freeze time around a moving subject for dramatic effect, so you can even capture a friend jumping in the park and keep everyone else around them as still as statues.
Price and Availability
The Samsung DV300F will be available in mock black, silver, navy and red. A release date and pricing has not been set. Check for pricing.