Roku announced a new solution to make a better Smart TV, meaning one that is capable of streaming movies or TV shows from the Internet. The new Roku Streaming Stick is a wireless device about the size of a standard USB flash drive that will plug into a TV to instantly transform it into a Smart TV. The Roku Streaming Stick will feature built-?in Wi-Fi, processor, memory and software to deliver Roku's growing collection of streaming entertainment. With the Roku Streaming Stick, these new Smart TVs allow consumers to enjoy a fully integrated high-?definition streaming experience.
Today's Smart TVs become outdated in just a couple of years because as software evolves the hardware needs to be upgraded to keep pace. While short hardware product cycles are expected with mobile devices such as smart phones, consumers generally keep their TVs for six to eight years. By moving the streaming platform to a stick that's easily replaceable, consumers no longer have to worry about their large-?screen Smart TVs becoming obsolete before their time.
The Roku Streaming Stick will not require any cables or a separate power source, and can be controlled by the TV remote. Like Roku players, it will deliver the more than 400 channels found on the Roku platform today (Netflix, Hulu Plus, Amazon Instant Video, etc.) and will benefit from regular, free software updates and channel enhancements.
Compatibility
The Roku Streaming Stick will plug into MHL-enabled HDMI ports on TVs. MHL is a new standard that uses the HDMI connector on TVs to deliver power and other critical elements for the streaming experience. MHL is currently adopted by nearly 100 hardware and manufacturing vendors including Nokia Corporation; Samsung Electronics Co., Ltd.; Silicon Image, Inc.; Sony Corporation; and Toshiba Corporation, who are the joint founders of the MHL Consortium.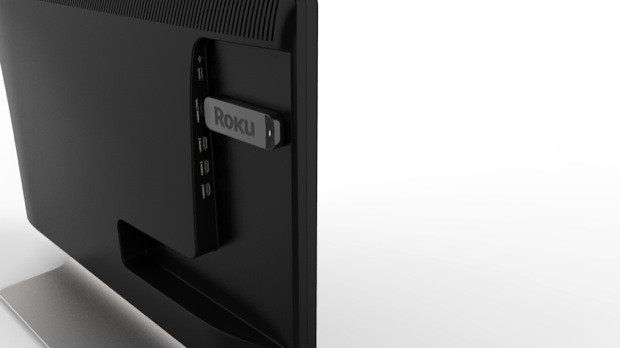 "Smart TV manufacturers have struggled to find an application platform that sticks with consumers especially since software is not their area of expertise," said Kurt Scherf, vice president and principal analyst at Parks Associates. "The Roku Streaming Stick is a game changer for the Smart TV market. It takes the leading streaming platform and integrates into the TV in a way that no one has been able to do before."

Availability
The Roku Streaming Stick will be available in the second half of 2012 priced between $50 to $100. It can be bundled with a TV in retail or sold separately for consumers to use with their own TVs. BestBuy's Insignia brand will be among the first manufacturers to pair the Roku Streaming Stick with a TV.

<!-comments-button-->