The Cable Arch by RhythmiCraft helps lower noise, increase dynamics and eliminate static charge by elevating your cables off the floor.
There are other cable lifts on the market that perform their intended purpose, but our Cable Arch does all of that AND it has a very high WAF… it looks great!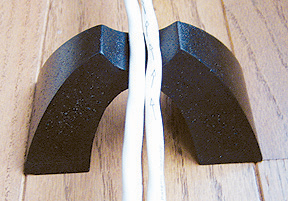 Made of a dense and heavy black urethane resin, our cable lift has a tumbled stone texture that is a work of art and will complement the decor of any hifi audio/video system. The weight and wide stance of the Cable Arch creates a very stable, tip resistant platform for your high end signal and power cables.
Reviews Around the Web:

rhythmicraft cable arch