Razer announced the Razer Ferox ultraportable desktop stereo speakers that deliver 360 degrees of omni-directional sound, giving a much wider listening sweet spot than any ordinary front-facing speakers. No matter where you stand, sit, or backflip during a riotous shootout, audio from the Razer Ferox sounds just as immersive.
Featuring expandable resonance chambers that provide stronger bass and optimized digital amplifiers for a fuller sound experience, each chamber rises upon a single press to power up. You'll have a hard time just keeping your hands off the nifty mechanism every time you switch the Razer Ferox on.
With 12 hours of rechargeable battery life and a convenient carrying case, the Razer Ferox is extremely versatile. These mobile speakers can be used for space-constrained gaming desktop setups, brought along to LAN parties for a convenient audio solution, or broadcasting your headbanging playlist whilst at the beach. Just plug it into any media player with a 3.5mm jack and you'll realize that you'll never want to leave home without your Razer Ferox, especially when phenomenal audio is just a plug and press away.
Get powerful sound in a portable form factor with the Razer Ferox, a tiny but mighty stereo speaker set. With 360-degree omni-directional acoustics that fill your surroundings evenly with sweet sound, expandable resonance chambers for thumping bass, and optimized digital amplifiers to enhance performance and power efficiency, you'll never be left wanting more. Your multidimensional listening experience is right in the palm of your hand.
With its simple plug-and-play operation, 12-hour rechargeable battery life, and handy carrying case, the Razer Ferox is the ultimate choice for all your mobile audio needs.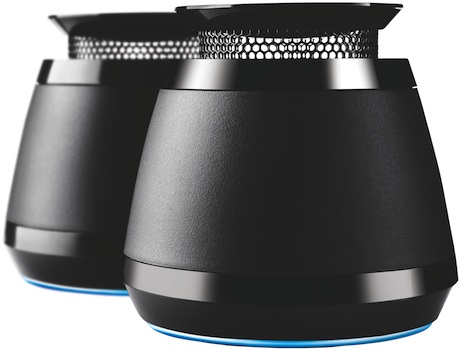 Product Features:
360 degree omni-directional sound for all round clarity
Expanded bass resonance chamber for powerful bass
Digital amplification for enhanced power efficiency
Compatible with any media player with a 3.5mm jack
30mm drivers for exceptional audio quality
Rechargeable non-replaceable in-built batteries
Up to 12 hours of playback
Play and charge simultaneously
LED battery status indicator for easy monitoring
Seamless switch between On/Off-mode
Carrying pouch for maximum portability
Price and Availability
Available worldwide January 2011 for US $59.99; EU euro 59.99.
razer ferox portable Reviews
From Critics Around the Web