Quad announced the Elite QSP stereo power amplifier with their latest Current Dumping technology to deliver an awesome sound from a compact package. The Elite QSP — which stands for Quad Stereo Power — replaces the much acclaimed 909 power amp in Quad's range, building upon its predecessor's blueprint with upgraded internal components and innovative new circuitry to deliver an even higher level of audio performance.
A key part of the design of the Elite QSP, and the 909 before it, is Quad's proprietary Current Dumping technology — originally devised in the 1970s by Quad's founder Peter Walker and still one of the few truly innovative amplifier topologies. It was first introduced in the seminal Quad 405, earning that amp both a Design Council Award and The Queen's Award for Technical Achievement, and has since been refined and modernised in successive amplifiers culminating in the Elite QSP.
Current Dumping is essentially a combination of two stereo amplifiers to deliver the best possible overall sound quality in both channels. An extremely high-quality, low-power Class A amplifier provides the signal quality, and keeps what's going out as close as possible to what's coming in from the preamp, while a high- power current dumping section delivers the muscle to keep the speakers under control. These two amplifier circuits are combined with a precision network to perfectly impose the finesse of the Class A output onto the power of the current dumper — the result is a truly captivating combination of dynamic power, vice-like grip and sumptuous sonic detail.
Whilst remaining true to the principals of Peter Walker's ingenious original design, the Elite QSP further evolves the template by fully utilising contemporary audiophile principals. The use of tight-tolerance parts in key areas guarantees consistency between channels and also between production units. Audiophile-grade components have been carefully selected from around the world for their exceptional sonic ability, and the signal path is kept as simple as possible to ensure optimal signal purity.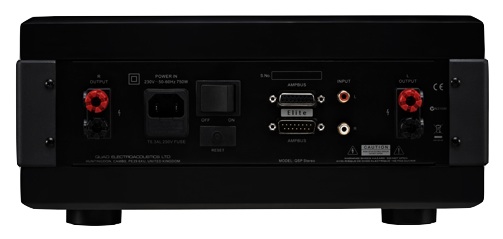 In developing the Elite QSP, Quad has undertaken extensive research into internal screening techniques to ensure optimal control of crosstalk and the flow of magnetic fields. New PCB layouts, screened signal paths, custom-made transformers and shielding to protect the amplifier boards from mains hum all contribute to an overall design that delivers a clean, unsullied technical performance and an excellent dynamic range.
The Elite QSP's 'green' credentials are enhanced by a standby function that consumes less than one watt of electricity. The amp may be placed into standby via a button on the front panel, or via Amp Bus: Quad's proprietary cable system that carries both balanced audio and control signals to the QSP from other Elite components, such as the Elite Pre preamplifier and Elite CDP CD player/preamp, enabling the QSP to be switched to standby via remote control. In addition to the Amp Bus inputs, RCA sockets allow connection to preamps from other brands if the user so desires.
The new amp enjoys the same compact form factor and solidity of build as the 909, cosmetically updated with a redesigned aluminium casting to allow more efficient heat flow. A specially developed modular manufacturing process uses gas-tight high-current terminals to ensure excellent quality control and perfect consistency between units in mass production.
Despite its relatively compact size, the Elite QSP has plenty of power on tap — 140W per channel into 8 ohms and 250W into a 4ohm load — ensuring any speakers can be driven with ease, including Quad's classic ESL electrostatic designs. With power and current to spare, the net result is the sonic clarity and sweetness of a superb Class A amplifier, combined with the grip and control of the best Class AB designs. Simple, solid and classy on the outside and devilishly clever within, the Elite QSP maintains Quad's traditional place at the forefront of modern amplifier design.
Price and Availability
The Quad Elite QSP is available from February 2012 for £1,199.95.
Specifications — Quad Elite QSP
| | |
| --- | --- |
| Power output | 140W into 8 ohms (<0.01% THD at 1kHz) |
| Total harmonic distortion | <0.004% (100W at 1kHz); <0.025% (100W at 20Hz – 20kHz) |
| Output impedance | 0.05 ohms in paralled with 1.5µH |
| Frequency response | -1.0dB at 1Hz and 55kHz, ref. 1kHz |
| Power response | 0.25dB at 20Hz and 20kHz, ref. 1kHz |
| Input sensitivity | 760mV (RCA line input) |
| Input impedance | 10kΩ (balanced); 15kΩ (unbalanced) |
| Crosstalk | -90dB at 1kHz (input loaded with 600Ω) |
| Signal-to-noise ratio | 108dB (20kHz measurement bandwidth) |
| Stability | Unconditional with any load and input |
| Supplied Accessories | IEC power cable; Amp Bus cable |
| Dimensions (WxHxD) | 358 x 149.2 x 269.6mm |
| Weight | 12.5kg |