PS Audio, the 35-year-leader in innovative audio products for Consumer Electronics, unveils the world's first CD transport capable of directly playing high resolution WAV files recorded on both DVD and CD at the 2009 CES.
The CES press event, (Friday, January 9th at 5PM — suite 29-136 — Venetian Towers, Las Vegas), will feature PS Audio's ground breaking PerfectWave™ Transport Memory Player, the PerfectWave™ DAC, and Reference Recordings' high definition HRX format DVD's, played for the first time directly in a player at 24 bit 176kHz resolution.
Reference Recording's HRX discs are direct bit-for-bit copies of leading recording engineer Keith Johnson's master tapes and will be played back over PS Audio's new PerfectWave Digital Suite of equipment in full 24 bit 176kHz native resolution.
Keith Johnson, as well as Jan Mancuso from Reference Recordings, will be fielding questions at PS Audio's press party on January 9th. Keith Johnson will arrive at 6PM.
The PerfectWave Digital Suite of equipment includes the PerfectWave Transport and DAC, both ground-breaking products, utilize PS Audio's exclusive Global Net Service built on a Cloud Computing platform for library organization, access, and management.
"Cloud Computing represents a major paradigm shift in control and communication over the internet," suggests Paul McGowan, CEO of PS Audio. "In time it will create one of the most significant market opportunities for CE since the explosive growth of the Internet itself."
The PerfectWave™ Transport (PWT) is a fundamentally new type of optical disc transport for both CD and DVD audio mediums that RIPS all optical data first to a memory, using Exact Audio Copy (EAC) for the extraction, then outputs that data through a built in Digital Lens to eliminate jitter and timing artifacts associated with the extraction process. The PWT can access cover art, song titles and metadata through its included Global Net Internet connection, and it stores the data for future access on the PS Audio Global Net Service.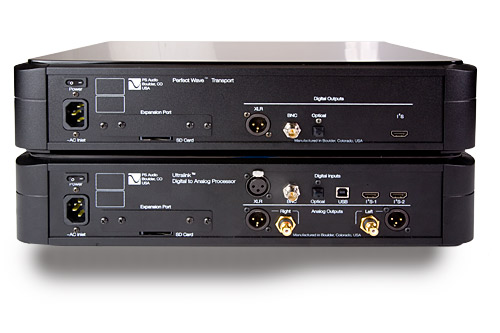 The PerfectWave DAC (PWD) is a "ground-breaking" D to A processor that can be configured as a high resolution music server with the addition of an internal network Bridge. With the Bridge installed, any format or resolution data up to 196kHz 24 bit can be accessed and played back through a jitter-free interface known as I2S.
The PWD, PWT and any DLNA compliant media storage device can be controlled through either IP for custom integration with home automation equipment or PS Audio's iPhone or iPod Touch wireless user interface. Both the Bridge and the iPhone user interface will be demonstrated for the press on Friday, the 9th.
The media storage library management, along with all the cover art and song titles for the entire library, can be accessed through the PS Global Net service, providing worldwide access to a customer's music library.
PS Audio will be demonstrating the PerfectWave Digital Suite at the CES, January 8 — 11 at suite 29-136 at the Venetian Towers.