3G Nationwide Wireless Internet Access With No Annual Contract; Available Exclusively at Best Buy Mobile
Virgin Mobile USA today announced the launch of Broadband2Go, a 3G nationwide wireless Internet service without an annual contract, monthly subscription or activation fee. With Broadband2Go, Virgin Mobile USA extends the popularity of prepaid cell phone service, which the company transformed, to online access.
Operating on the Sprint Nationwide Network and developed in conjunction with Novatel Wireless, the MC760 Broadband2Go device carries the distinction of being the world's smallest EV-DO Rev. A modem. It will be available exclusively at Best Buy Mobile starting in late June for $149.99, and is the first prepaid broadband product Best Buy Mobile is offering.
"Forget the long-term contracts, monthly bills or desperately seeking a local coffee shop for Wi-Fi. Prepaid mobile broadband is ideal for students, families on the go, freelancers, anyone who needs wireless Internet access…and wants to pay only when they use it," said Bob Stohrer, CMO, Virgin Mobile USA. "We've already demonstrated the benefit of no annual contracts and the ability to tailor spending to individual needs. Broadband2Go is another way to give consumers value, flexibility and convenience."
"As the exclusive retailer, we are extremely excited to bring this nationwide no-contract mobile broadband solution to our customers for the first time," said Best Buy Mobile President Shawn Score. "We believe this product will dramatically alter the marketplace and significantly change the way consumers spend their money connecting to the Internet. For Best Buy Mobile, it aligns perfectly with our goal of providing value and choice to our customers who are looking to get more out of their mobile life." Virgin Mobile USA's partnership with Best Buy Mobile will also make the new Broadband2Go available at airport kiosks later this summer.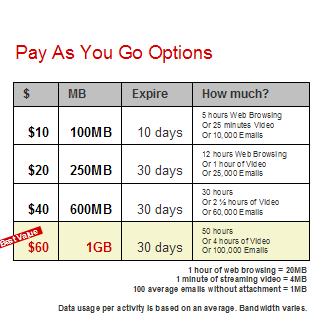 Like Virgin Mobile USA's mobile phone service, activation is simple and megabytes can be added as often as needed with credit/debit cards or Virgin Mobile Top-Up cards. Top-Up cards can be used to purchase data usage from 100MB to 1 gigabyte on the pay-as-you-go model. A new Broadband2Go-branded Top-Up card for $20, which customers may use to purchase 250MB good for 30 days, translating roughly into 12 hours of web browsing. Other data plans are available at $10, $40 and $60, and any VMU Top-Up card can be used.
Designed to be extremely durable and compact, the Broadband2Go device combines a variety of innovative features into its tiny form factor including an integrated microSD™ slot allowing for the seamless storage and transport of up to 16GB of files, photos or videos on a hot-swappable, removable SD storage card (sold separately). At just over two inches long and weighing less than an ounce, the device is designed to work with any laptop, tablet PC or desktop running Windows operating systems and equipped with a Type-A USB port. The MC760 features an internal, advanced dual band diversity antenna, as well as an optional external antenna for enhanced performance on the fringe areas of networks and in highly mobile environments.
"We're delighted to work with Virgin Mobile USA to deliver mobile broadband solutions that provide industry leading performance and unprecedented functionality for our customers," said Peter Leparulo, chairman and CEO, Novatel Wireless. "The MC760 combines powerful performance and high capacity removable memory storage with a sleek form factor to provide the ultimate connectivity solution for users on the go."
Virgin Mobile USA's Broadband2Go requires no activation fee and there are no roaming charges. Customers have a real-time usage meter to monitor and check "Remaining Megabytes of Use" at any time. From the Broadband2Go My Account page, customers are provided with approximate estimates for how many hours of web-browsing, video-viewing and number of emails each plan will generally handle.
According to market research firm Infonetics, sales of mobile broadband cards topped $4.1 billion worldwide in 2008, and IDC reports that represents approximately 7.1 million U.S. subscribers. Growth from 2007 to 2008 was 60%, and IDC also says the 3G mobile broadband market is expected to grow to $10.4 billion in 2012.
About Virgin Mobile USA, Inc.
Virgin Mobile USA, Inc. (NYSE: VM), through its operating company Virgin Mobile USA, L.P., offers more than 5 million customers control, flexibility and choice through Virgin Mobile's Plans Without Annual Contracts, with coverage powered by the Nationwide Sprint Network. Virgin Mobile USA also offers unlimited all-in contract plans with advanced devices like the Ocean 2.