Porsche Design announced their first luxury smartphone in collaboration with RIM. The Porsche Design P'9981 smartphone from BlackBerry showcases its elegant design in a forged stainless steel frame, hand-wrapped leather back cover, sculpted QWERTY keyboard, and crystal clear touch display. Porsche Design even includes an exclusive user interface (UI) and a bespoke Wikitude World Browser augmented reality app experience. The phone also includes premium, exclusive PINs that help easily identify another P'9981 smartphone user.
"Since 1972 Porsche Design has presented milestone products with iconic style, and the P'9981 smartphone from BlackBerry will be our next landmark," said Dr. Juergen Gessler, CEO Porsche Design Group. "The pure and distinctive design, coupled with authentic materials and an emphasis on the manufacturing process, perfectly match our philosophy and complement the Porsche Design product assortment."
"This collaboration stems from a shared belief that form equals function ," said Todd Wood, SVP for Industrial Design, Research In Motion. "The Porsche Design P'9981 is a truly modern luxury smartphone, where the timeless style of Porsche Design meets the unmatched mobile experience provided by BlackBerry."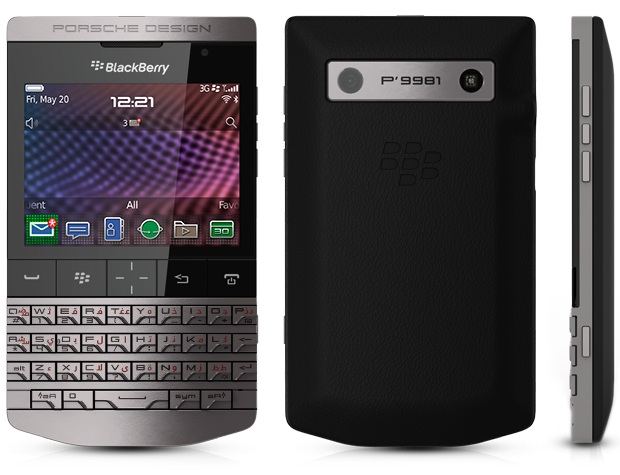 The Porsche Design P'9981 is built on a performance driven platform that features a 1.2 GHz processor, HD video recording, 24-bit high resolution graphics, and advanced sensors enabling new augmented reality applications. It comes with 8GB of on-board memory, expandable up to 40GB with a micro SD card.
BlackBerry 7, the operating system for the new Porsche Design P'9981, includes a next generation BlackBerry browser with a fast, fluid web browsing experience that is among the best in the industry. It also features Liquid Graphics technology, which delivers a highly responsive touch experience with incredibly fast and smooth graphics.
The Porsche Design P'9981 includes built-in support for NFC (Near Field Communications), which will enable many new and exciting capabilities.
Price and Availabililty
The Porsche Design P'9981 smartphone from BlackBerry will be available from Porsche Design stores later this year. Check price →
Specifications
Processor: MSM 8655, 1.2GHz
Memory: 768MB RAM, 8 GB eMMC
Expandable memory: Up to 32 GB µSD card (optional)
5-megapixel digital camera, 4X Digital Zoom, Flash
HD Video recording (720p)
Face detection and Image Stabilization, Geo-tagging, Scene Modes
Capacitive touch screen
Optical trackpad
ESC key to the right of the trackpad
Menu key to the left of trackpad
35 key backlit keyboard
Dedicated keys: Send, End (Power), Menu, Escape, Camera (user customisable, convenience key), Volume Up/Down (Fwd/Rwd for media, Zoom for camera), Mute (Play/Pause for media), Lock (top center)
Integrated GPS
Includes BlackBerry Maps
Advanced Sensors: Accelerometer, Magnetometer, Proximity
Video formats: MPEG4, H.264, H.263
Audio formats: MP3, AMR-NB, AAC-LC, AAC+, eAAC+, Flac, Vorbis
Display: VGA 640 x 480 resolution, 287 dpi, Transmissive TFT LCD, 2.8″ active area
Near Field Communication Operating Frequency: 13.56 MHz, Modes: reader/writer, card emulation
Wi-Fi: 802.11 2GHz b/g/n, 5GHz a/n
3.5mm stereo headset capable
Integrated speaker and microphone
Dual Microphone for intelligent background noise suppression and echo cancellation
Hands-free headset capable
Bluetooth headset capable
Integrated hands-free speakerphone
Height: 115 mm / 4.53 in
Width: 67 mm / 2.64 in
Depth: 11.3 mm / 0.44 in
Weight: 155 g / 5.47 oz