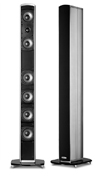 Entirely new line features stunning cosmetics and performance for flat panel TV Home Theater systems
Today Polk Audio announced the all-new VM Series product line aimed at exceeding the highest cosmetic and performance aspirations of consumers with flat panel TV-based Home Theater systems.
There are three models in the range, one floor-standing, and two on-wall/stand/shelf LCR satellite models, all offered in hand-polished Satin-gloss Black or Satin-gloss Silver finishes with fit and finish precision that rivals the very finest speakers regardless of cost. Resonance-damped extruded Aluminum enclosures with asymmetric cabinet bracing ensure clean and accurate sound as well as drop dead gorgeous looks.
All VM models feature Polk's proprietary Dynamic Balance™ drivers and tweeters. The bass/midrange drivers used throughout the VM range use polymer/mineral composite cones. The 1-inch tweeter is an anodized Aluminum dome for smooth, extended treble response and superior detail. The tweeter features a neodymium magnet and low-viscosity ferro-magnetic fluid cooling for better power handling and reliability.
The top-of-the-line VM30 (MSRP $1,149 each) is a 49-inch tall, slim floorstanding speaker firmly supported by a smoked tempered glass base. Internally the VM30 is separated into two acoustic chambers; the upper chamber houses dual 4-inch midrange drivers flanking the 1-inch Aluminum tweeter. The lower chamber houses four active 4-inch bass drivers on he front panel and four critically tuned 4-inch planar bass radiators on the rear of the enclosure. The combined surface area of the bass drivers and radiators is 27% greater than a single 10-inch woofer but with high motor strength-to-mass ratio of small drivers for the bass extension and output of large woofer systems with the speed and detail of small-driver systems. The bass performance of the VM30 is lightening fast with high resolution detail and musicality.
The VM20 (MSRP $529 each) may be used either as front L&R speakers or as a center channel speaker. The VM20's 4-1/4″ depth makes it a perfect on-wall speaker to use with wall-mounted Plasma or LCD TVs. Its extruded Aluminum enclosure houses dual four-inch mid/bass drivers, two 4-inch planar bass radiators and the same 1-inch AL tweeter used in the VM30. The VM20 comes with wall mounting hardware and a shelf cradle. Optional table stands (TS20) with smoked tempered glass base are available at an MSRP of $129.95/pr and floor stands with smoked glass bases are available for $399.95/pr MSRP.
The VM10 (MSRP $349 each) is a satellite LCR speaker containing two 3-inch mid/bass drivers and a 1-inch Aluminum dome tweeter. It comes with a shelf cradle/wall mount bracket as well as a table stand with smoked tempered glass base. Two threaded inserts are on the back of the enclosure to allow easy use with optional fully articulating wall brackets. An optional floor stand, FS10, is available for $329.9/pr MSRP.
Despite their slim elegant profiles and modest dimensions, the VM Series speakers give up nothing on the performance side. In fact VM Series models are capable of life-like volume output and dynamic range. Their minimalist design and narrow baffles produce an unusually wide and well-dispersed sound field-perfect for home theater surround systems with multiple listeners. Every listener in the room sits in an immersive bubble of clean, clear, and spacious sound.
The VM models are magnetically shielded allowing safe placement next to televisions or video monitors and feature gold plated 5-way binding posts. All VM models are packaged and priced separately to allow consumers to custom assemble the home theater system that perfectly meets their needs. Some suggested VM Series systems are:
| | | | | |
| --- | --- | --- | --- | --- |
| L&R Front | Center | Surround | Subwoofer | System MSRP |
| VM30 | VM20 | VM20 | DSW Micro PRO 4000 | $5,670 |
| VM20 | VM20 | VM10 | DSW Micro PRO 3000 | $3,740 |
| VM10 | VM10 | VM10 | DSW Micro PRO 2000 | $2,930 |
The new VM Series will be available in authorized US and Canadian retailers in September 2007
VM Series Specifications
VM10
VM20
VM30
Dimensions H x W x D inches
11″H x 4-1/4″ D x 4-1/8″ W
25-1/4″H x 5-7/16″W x 4-1/4″D
49″H x 6″D x 6″W
(height with base)
Freq Response
90Hz-26kHz
70Hz-26kHz
50Hz-26kHz
(Lower/Upper -3db Limit)
(100Hz/25kHz)
(80Hz/25kHz)
(60Hz/25kHz)
Nominal Impedance
8 Ohms
8 Ohms
8 Ohms
Recommended Amplification
20-150W/channel
20-175W/channel
20-225 W/channel
Efficiency
89db
89db
90db
Driver Complement
Two 3″ mid-woofers, One-1″ Ferro-magnetic fluid- cooled Aluminum Dome Tweeter
Two 4″ mid-woofers, two 4″ planar bass radiators and one-1″ Ferro-magnetic fluid-cooled Aluminum Dome Tweeter.
Two 4″ mid-woofers, two 4″ planar bass radiators and one-1″ Ferro-magnetic fluid-cooled Aluminum Dome Tweeter.
Magnetically Shielded
Yes
Yes
Yes
Product Weight
4.3 lbs
11.6 lbs
25.5 lbs
Shipping Weight
6.2 lbs
13.3 lbs
29.4 lbs
Optional Accessories
FS10 Floor Stand
FS20 Floor Stand
TS20 Table Stand
Finish
Satin-gloss Polished Black or Silver
Satin-gloss Polished Black or Silver
Satin-gloss Polished Black or Silver
MSRP US$
$349.95 ea
$529.95 ea
$1149.95 ea
Accessory MSRP US$
FS10 $329.95 pr
FS20 $399.95 pr
TS20 – $129.95
About Polk Audio
Polk Audio is an award-winning designer and manufacturer of high performance audio products and the largest audio brand of Directed Electronics, Inc. (NASDAQ, DEIX). Founded in 1972 by three Johns Hopkins University graduates, Polk Audio holds over 50 patents for advances in loudspeaker design and technology. Polk's products include loudspeakers and electronic components for home, auto and marine applications, the first satellite radio home component tuner, the world's first audiophile-grade active IP-addressable loudspeaker, the first THX Ultra2 Certified in-ceiling loudspeaker, and I-Sonic-the first entertainment system to include HD radio, XM Connect & Play capability and a DVD player. Polk products are available through authorized specialist consumer electronics retailers worldwide. For more information and the location of a Polk retailer or distributor in your area visit the www.polkaudio.com or call us at 1-800-377-7655 (USA and Canada). Outside of North America call +1 (410) 358-3600.