Plextor's New Optical Drives Featuring Qflix™ Software from Sonic Solutions Allow Consumers to Download and Burn Movie Titles at Home
Plextor LLC, a leading developer and manufacturer of high-performance digital media equipment, reenters the market with the availability of two new drives, the PX-Q840U external and the PX-806SA internal. Both drives feature Qflix recording technology from Sonic Solutions, enabling consumers to download and burn movie and TV titles at home.
The Qflix-enabled Plextor drives make it easy for consumers to download and burn their favorite movies and TV titles directly to a DVD for immediate viewing. Developed by Sonic Solutions and Pioneer in 2007, the unique Qflix software uses Roxio Venue, a rich, user-friendly application that allows consumers to search for and download their favorite Hollywood hits from digital entertainment innovator, CinemaNow (www.cinemanow.com). Once downloaded, users are able to create a permanent and portable DVD-format copy onto Qflix-enabled optical media.
"The Qflix technology makes it easy for all consumers, not just the tech-savvy, to access and manage digital entertainment at home," said Bob Gronski, vice president of sales and marketing for Plextor. "In an economic time when people are going out less and taking advantage of home entertainment more, it's exciting for us to offer a solution with such limitless entertainment capabilities."
The drive bundles feature Roxio Venue, which connects directly to CinemaNow for media download, Roxio Creator 10 CE burning software and two recordable Qflix™ DVD discs. PlexUTILITIES Advanced Burning Software also comes standard with all Plextor Windows platform optical drives for extra support.
In addition to burning movie selections to DVD via Qflix™, the included Roxio Creator 10 CE gives users the freedom to create, share and enjoy movies, photos and music. The software is certified for Windows Vista™.
"In the past, the most common concern for consumers when purchasing movies electronically has been the inability to guarantee long-term ownership and portability of the files," said Mark Ely, executive vice president of Strategy, Sonic Solutions. "With the Plextor drives and Qflix technology, consumers have physical DVD back-up and the assurance that the file will play on virtually all standard DVD players."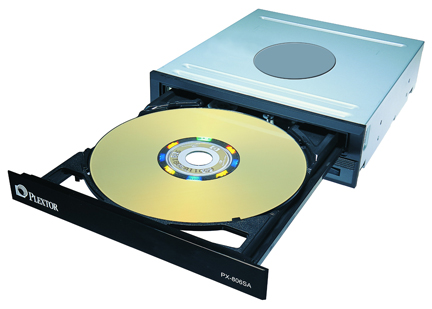 CinemaNow provides Plextor customers with a wide selection of home entertainment for download through Qflix. The CinemaNow library for burnable downloads currently consists of approximately 100 titles and is expected to grow substantially in the coming months. Burnable titles are available from Warner Home Video, Sony Pictures Home Entertainment, Universal Studios Home Entertainment, Paramount Home Entertainment and Lionsgate, with other studios expected to add titles for burning through Qflix in the future. Cost per download will be less than ten dollars, but is subject to change. After burning to the Qflix-enabled DVD, discs can be played in the majority of all standard DVD players.
Plextor's PX-Q840U external retails for $149.99 and the PX-806SA internal retails for $89.99. Both drives are available for purchase now through distributors and retailers in North and South America. For more information on Plextor, visit www.plextor.com. Information on Qflix can be found at www.qflix.com.