Improved Sound With AudioIQ2 and WindSmart Technologies, Plus Unique Charging Case Can Triple Talk Time from 5 to Up to 15 Hours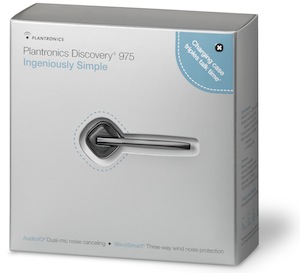 Plantronics, Inc. announced the new Plantronics Discovery 975 Bluetooth earpiece. The Plantronics Discovery 975 is the next generation of the Discovery 925, which was lauded for its superior audio quality and innovative lightweight design. Customers will enjoy an improved audio experience with advanced AudioIQ2 and WindSmart technologies, which deliver natural sounding voice in harsh noise environments, coupled with Plantronics' legendary inbound audio quality, comfort, and durability.
"Consumers expect great outbound noise cancellation in a premium headset, but they are tired of sacrificing usability, comfort, and quality," said Renee Niemi, vice president and general manager of the Plantronics Mobile and Entertainment Division. "At Plantronics we have spent nearly five decades perfecting all aspects of headset design from inbound audio quality to fit. For customers seeking the perfect blend of innovative design and advanced audio technologies, the Discovery 975 is the ingeniously simple solution."
Industry-Leading Performance
The Discovery 975 features AudioIQ2, the next generation of Plantronics' AudioIQ digital signal processing (DSP) technology, and two microphones to precisely capture the user's voice and simultaneously cancel background noise. Users don't have to worry about pressing special buttons or having sensors touch their face to activate the noise-canceling capabilities — AudioIQ2 works automatically wherever the user is having a conversation.
Plantronics Discovery 975 addresses wind noise with three layers of WindSmart technology. It features grooved vents on the boom and acoustic fabrics that surround the microphones to block wind. In addition, electronic filters within AudioIQ2 remove wind noise during conversations and help deliver your clear, natural voice to the listener.
The Plantronics Discovery 975 also provides the great inbound audio quality for which Plantronics is known. The earpiece includes an adaptive 20-band equalizer that delivers rich, full voice and works with AudioIQ2 to automatically adjust incoming calls to comfortable listening levels based on the noise level around you.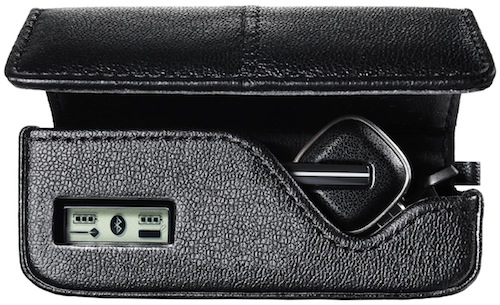 One-Of-A-Kind Charging Case
The Discovery 975 comes with an improved rechargeable carrying case that can triple talk time from 5 hours to up to 15 hours while protecting and storing the earpiece. The new case includes an LCD screen that displays the battery and earpiece charge levels, as well as Bluetooth connectivity. With the rechargeable case, users don't have to worry about constantly finding a wall outlet and can finally see the charge level in their headset, so they won't run out of battery life in the middle of a call.
Intuitive User Experience & Simple Design
At only 8 grams, the Plantronics Discovery 975 is a lightweight headset featuring Plantronics' signature boom, which captures speech close to the mouth to ensure your voice sounds natural. Perfect for quick on/off wearing, the earpiece uses the same patented soft gel ear tips customers loved on the Discovery 925 for a stable, comfortable fit that doesn't invade the ear canal. The Discovery 975 includes two buttons for ease of use: one button for powering on/off and call answer/end and another button for volume control and mute. The Discovery 975 features voice prompts for low battery warnings, mute status and Bluetooth connectivity.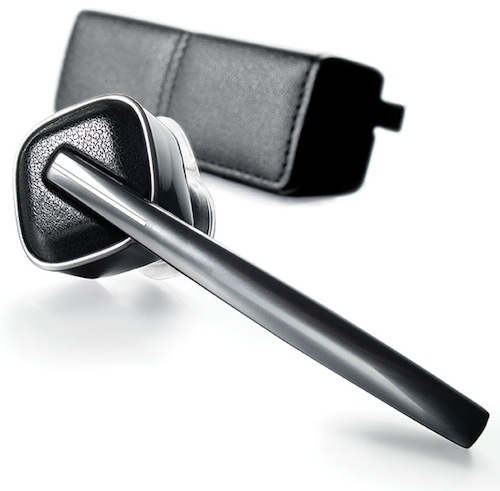 Pricing and Availability
The Plantronics Discovery 975 has a retail price of $129.99 and is available at plantronics.com, BestBuy.com, Amazon.com and Apple stores now. Availability in AT&T, Radio Shack and Sprint stores follows in September/October.
About Plantronics
In 1969, a Plantronics headset carried the historic first words from the moon: "That's one small step for man, one giant leap for mankind." Since then, Plantronics has become the headset of choice for mission-critical applications such as air traffic control, 911 dispatch and the New York Stock Exchange. Today, this history of innovation is the basis for every audio product we build for the office, contact center, personal mobile, entertainment and residential markets. The Plantronics family of brands includes Plantronics, Altec Lansing and Clarity.