PORTSMOUTH, NH – February 9, 2005 – PixelMEDIA, Inc., a full service company offering integrated strategy, design and implementation services for Web, multimedia and IT initiatives, today announced its role in the design and development of the Sonos Digital Music System user interface. The first and only multi-zone digital music system with a wireless, full-color LCD screen controller, the Sonos Digital Music System lets consumers play their entire digital music collection, all over their home, and control it from the palm of their hand.
During the development stage of the Sonos Digital Music System, PixelMEDIA was chosen as the lead partner in the creation of the user interface graphics for the Sonos Controller CR100 and Desktop Controller. The handheld is a wireless device with a full-color screen that allows the user to access, customize, and control the music from any location. The handheld and desktop controllers work with the Sonos ZonePlayer, which is a networked audio player that distributes, plays, and amplifies music in any "zone" in the home. As part of the process, PixelMEDIA completed an extensive workshop with the Sonos development team to ensure the proper information transfer of critical project objectives.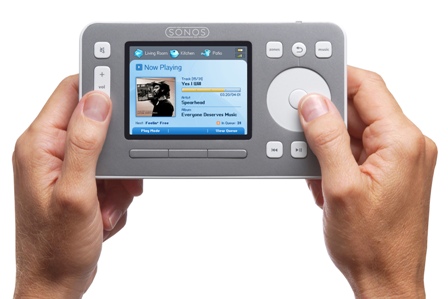 "During the development of the Sonos Digital Music System, it was critical that we partnered with vendors that that demonstrated the same amount of passion that we share at Sonos," said Rob Lambourne, Interaction Design Lead, Sonos, Inc. "We chose PixelMEDIA based on the company's proven design expertise and we continue to be impressed with the team's ongoing creativity, enthusiasm, and commitment."
PixelMEDIA was instrumental in developing the user interface custom icons that adhered to the specifications outlined by Sonos. In addition, PixelMEDIA designed visual elements that fit screen and functional specifications. Proprietary Flash templates were developed to accommodate hardware limitations and feature and wire frame changes throughout the development process.
"Whether the project involves designing and developing a Web site or creating a user interface for a company, we pride ourselves on providing our clients with the expertise and dedication required to make any project a success," said Thomas Obrey, chief operating officer at PixelMEDIA. "With Sonos, we were able to understand their vision and transform concept to reality, assisting with their goal to provide a phenomenal end user experience for their customers."
About Sonos, Inc.
Sonos is comprised of a team of highly talented, music-loving software developers, audio engineers, hardware engineers, industrial and interactive designers, and usability engineers. Working side-by-side, they've created the Sonos Digital Music System, the first and only multi-room digital music system with a wireless, full-color LCD screen controller. Sonos is a privately held company, headquartered in Santa Barbara, CA with offices in Cambridge, MA. To find out more about the company or the Sonos Digital Music System, please visit: www.sonos.com.
About PixelMEDIA
PixelMEDIA is an award-winning provider of integrated Internet and IT services that help clients align initiatives with short and long-term business objectives. PixelMEDIA provides the strategic, creative and technical expertise needed to increase revenue opportunities and reduce costs. Founded in 1994, PixelMEDIA's services include custom Web and Application design and development, User Interface design, Flash and multimedia tools, Search Engine services, Content Management, hosting and site management. PixelMEDIA's customers include industry leaders such as Tyco International, ECCO Shoes, CVS/pharmacy, LogicaCMG, MatrixOne, Nokia, Harvey Industries, and Cbeyond Communications. More information on PixelMEDIA can be found at www.pixelmedia.com.
Media Contact:
Ian Stanton
PAN Communications for PixelMEDIA
978/474-1900
pixelmedia@pancomm.com
Thomas Meyer
Sonos, Inc.
714.389.4639
Thomas.meyer@sonos.com