Pioneer announced three new wireless music speaker systems, the XW-SMA1, XW-SMA3 and XW-SMA4 capable of streaming audio using Apple's AirPlay, DLNA 1.5 or Wireless Direct. All three models were specially tuned by renowned Pioneer sound engineer Andrew Jones to provide high volume output with excellent sound quality.
The SMA speaker systems offer consumers a choice of connections via Wi-Fi based on the type of device, laptop or home network. Users of iPhone, iPad, iPod touch and computers running iTunes can connect via AirPlay for playback of music in a single room or multi speakers/multi-room setup. The speakers also offer DLNA 1.5 connectivity, enabling users to listen to music content pushed from their compatible networked devices, including a Mac computer, PC or handheld smart device via their existing home network.
A first in the industry, all three speaker models offer Pioneer's Wireless Direct technology, which allows the speaker to act as its own Wi-Fi wireless access point. Through Wireless Direct, no home network is required, giving users the freedom to use the speakers in rooms where a Wi-Fi network might not be available. Additionally, with the XW-SMA3 model, the included rechargeable battery provides added convenience and portability allowing users to enjoy music from the speakers anywhere inside or even outside the home.
Pioneer's Chief Speaker Engineer Andrew Jones was deeply involved with the design and engineering of each XW-SMA speaker model, with the goal of outperforming the sound quality of similar products in the industry. Key components used in the speakers were carefully selected by Jones, including the drivers and crossovers, to achieve optimum sound. And, because the wireless audio transmission uses the high bandwidth of Wi-Fi, users hear the highest sound quality without the need for any additional compression.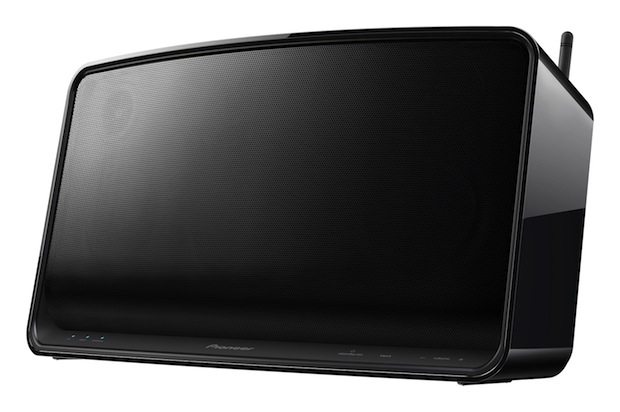 XW-SMA4
Features and Pricing (Available August 2012)
XW-SMA1 ($299) — Features dual 3-inch speakers and a 3/4-inch soft dome tweeter, and uses a tuned bass reflex port to enhance bass response.
XW-SMA3 ($399) — Using identical audio components as the XW-SMA1-K, the XW-SMA3-K model adds a rechargeable Lithium Ion battery and a tough exterior for added convenience and portability. When battery power is used, music playback lasts up to 4 hours at maximum volume and up to 6 hours at 50 percent volume.
XW-SMA4 ($399) — Features five speakers, including dual 3-inch speakers, a dedicated 4-inch subwoofer and dual 3/4-inch soft dome tweeters.
See more wireless speakers.