Pioneer Electronics introduced the S-MM201 USB-powered computer speakers for fuller sound than built-in laptop speakers. The portable speakers are easily connected via USB, without the need for AC power. The S-MM201 offers a built-in audio DAC and bass-reflex enclosure designed to enhance bass frequencies.
Shaped like small cubes with angled tops, the S-MM201 features 45mm full range drivers with control buttons for volume up, volume down and mute. The model utilizes a bass-reflex enclosure with a small port in front for increased bass reproduction. For added cosmetic appeal, the speakers are designed with see-through bottom casings and blue LED lights that illuminate when in use. The PC speakers are connected and powered via an included USB cable and uses built-in audio DACs to provide great sound quality. The speakers stand at 4 inches tall and weigh only 23 ounces for easy transportability.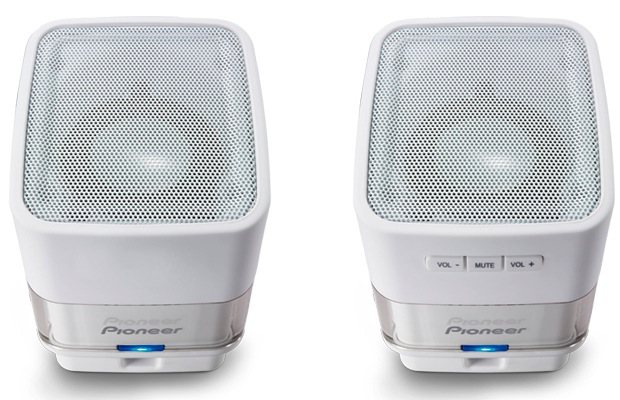 "With the S-MM201, you can have an enhanced listening experience virtually anywhere because it can deliver more audio output, especially in the lower and mid frequencies, and all without the need to plug them into the wall for power," said Chris Walker, director AV marketing and product planning for the Home Electronics Division of Pioneer Electronics (USA) Inc.
Price and Availability
The Pioneer S-MM201 computer speakers are available in black (S-MM201-K) or white (S-MM201-W) for $59.95. See other computer speakers or USB speakers.