Pioneer Electronics announced the reference quality PRS-D800 Class D 2-Channel Full-range amplifier, which features design elements and superior componentry from Pioneer's Stage 4 ultra high-end car listening system, bringing superior sound quality to a broader range of consumers and vehicles.
The PRS-D800 is a Full-range Class D, bridgeable 2-channel amplifier. The product is unique due to its high power, high sound quality, compact size, and the fact its chassis has been optimized for use as a part of a modular or building block amplifier system. The PRS-D800 is only 10-inches long by 4-1/8 inches wide by 2-inches tall, and has been designed to fit side by side or even stacked with other PRS-D800 amplifiers. Producing a substantial 125 watts per channel into 4 ohms stereo or 300 watts into 4 ohms bridged mono, the applications for this amplifier can be by itself or with multiple units.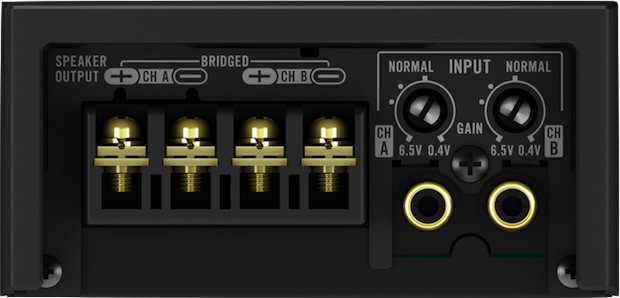 High power output and small size aren't the only special features of the PRS-D800. To complement the reference level sound quality of the DEH-80PRS receiver, the PRS-D800 amplifier employs high performance internal components.
Features
A high-slew rate operational amp is used to reduce the high-frequency distortion inherent to many Class D full range designs.
Handpicked, matched electrolytic capacitors to obtain consistent frequency response and high dynamic range.
Oxygen-free copper wire inductors for low direct current resistance and low loss that results in strong, tight bass response and clean mid and high frequency output.
Chassis construction that features Pioneer's Total Vibration Control (TVC) concept that utilizes anti-vibration materials and advanced structural engineering to eliminate audible distortion caused by microscopic component resonances.
The PRS-D800 has a rated frequency response from 10 Hz to 30 kHz with total harmonic distortion (THD) of .004% (1 kHz) and a signal-to-noise ratio of greater than 105 dB.
Price and Availability
The Pioneer PRS-D800 will be available in April 2012 for $300.