Pioneer Electronics introduced the 7.1-channel VSX-42 and the 7.2-channel VSX-60 Elite-branded network capable A/V receivers which offer AirPlay, DLNA, bluetooth audio streaming, 1080p video upconversion, iPod/iPhone certification, 192kHz/24-Bit DACs and all the necessary surround modes.
Audio Features
AirPlay — Elite consumers can wirelessly bring their entire iTunes music library into their home theater system using both receivers' built-in Apple AirPlay technology. The music from iTunes can be quickly accessed through a personal computer or an iPad, iPhone or iPod touch, and the album art and audio metadata can be displayed on a connected monitor/TV. Wi-Fi connectivity with Pioneer's optional AS-WL300 network adapter is available for the step-up VSX-60 to simplify the connection process.
DLNA Certified (1.5) — The Elite receivers are also DLNA Certified, allowing music content to be shared from a PC to the receiver via the consumer's home network. Through Ethernet or the optional AS-WL300 wireless network adapter (on the VSX-60 only), each receiver can access and play high resolution music up to 192kHz/24-Bit FLAC and WAV. Audio can also be streamed and controlled through the Elite receivers using other compatible DLNA Certified media servers, providing a highly flexible way for consumers to share and play their high resolution music collections.
Bluetooth Audio Streaming– With the optional Bluetooth adapter, each receiver supports wireless Bluetooth transfer of audio content from any A2DP Bluetooth wireless enabled mobile device or personal computer. Pioneer's AS-BT200 ($99) Bluetooth adapter allows listeners to keep their phones close to them while they enjoy music wirelessly through their home theater systems without the need to connect to a home network. And, with Pioneer's exclusive Sound Retriever AIR technology, specifically designed to enhance Bluetooth audio transmissions, music playback delivered via Bluetooth achieves remarkable sound quality.
Music Services — The VSX-42 and VSX-60 are equipped with vTuner Internet radio to bring thousands of high quality Internet radio stations into the living room for endless music entertainment. The feature is further enhanced with the addition of PANDORA Internet radio and access to SiriusXM Radio (with paid subscription) with the VSX-60 model.
ControlApp and iControlAV2012 — Controlling home entertainment systems with mobile devices is becoming more popular, and Pioneer makes it possible with its proprietary apps, ControlApp (for VSX-42) and iControlAV2012 (for VSX-60). Both are available as a free download from the Apple App Store for the iPad, iPhone and iPod touch or www.apple.com/itunes/, and as an Android App by download from Google Play. Both apps control power on and off, volume, and sound mode settings, as well as the ability for the user to choose and control content from Pandora, Internet radio stations and music files from network-attached storage (NAS) devices on a home network. The apps are very user friendly, with sophisticated graphics and the ability to make adjustments with simple touches on the screen. The iControlAV2012 adds enhanced single screen access points, 18 DSP sound adjustments via Pioneer Sound Explorer, including 4 Virtual speaker modes (Height, Surround Back, Depth, and new Virtual Wide) as well as 2nd zone content and volume control.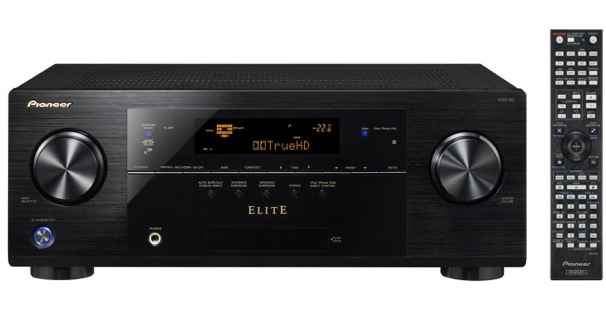 VSX-60
Video Features
Video processors — Pioneer's VSX-42 uses an Anchor Bay video processor while the VSX-60 incorporates Marvell's award-winning Qdeo technology, offering high quality video processing for maximum performance and flexibility. Qdeo provides a truly immersive viewing experience by capturing, processing and rendering a wider variety of video signals ranging from high definition Blu-ray Disc to portable video sources such as smartphones.
Stream Smoother — The VSX-60 features Pioneer's Stream Smoother technology to automatically improve images coming from the Internet via other devices such as connected Blu-ray Disc players, thereby reducing compression noise and reproducing cleaner and more pleasing images. The technology is especially helpful with low bit-rate video material originally intended for viewing on small screens.
Advanced Video Adjust — Pioneer's Advanced Video Adjust technology used in the VSX-60 model automatically optimizes video signals by the type of display (selected manually) connected to the receiver, such as Plasma, LCD and Front Projector. For example, the receiver can reproduce a detailed and virtually noiseless image on plasma panels, enhance the black level of LCD displays, and produce sharper, more vivid images with front projectors. The feature can further adjust and enhance images based on the user's viewing distance from their display by utilizing the distance information established during MCACC (Multi-Channel Acoustic Calibration System) calibration to determine how much adjustment is necessary.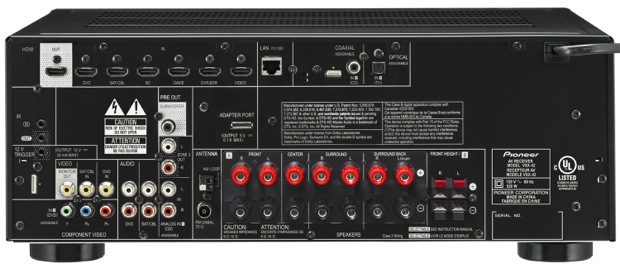 VSX-42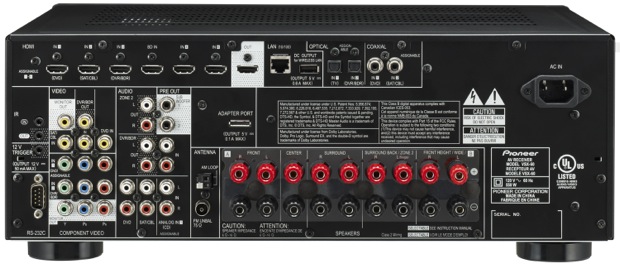 VSX-60
Audio Enhancements
While both models incorporate 192kHz/24-Bit DACs, MCACC room calibration and Advanced Sound Retriever for excellent sound quality, the VSX-60 takes it further with Advanced MCACC, Phase Control Plus, PQLS Bit Stream and Virtual Depth.
Advanced MCACC — In addition to MCACC's ability to automatically compensate for differences in speaker size, level and distance, Advanced MCACC on the VSX-60 uses 3D calibration for a more precise measurement by including time axis measurements.
Phase Control Plus — The VSX-60 enables users to delay the signal output of the main channels of the receiver from 0-16 milliseconds to compensate for the potential lag of low frequency signals (subwoofers). With Phase Control Plus, listeners can receive all audio signals at the same time, resulting in excellent sound quality with improved imaging and staging.
PQLS Bit-Stream — PQLS technology eliminates distortion that can be caused by digital bit stream timing errors by precisely synchronizing digital audio signals between the VSX-60 and the PQLS-compatible player for the best possible digital-to-analog conversion.
Virtual Modes — For a more realistic audio video experience, the VSX-60 features Pioneer's exclusive Virtual Modes. The receiver can simulate sound coming from various areas in a room without actual additional speakers connected. The technology can simulate a virtual surround back, virtual height and virtual depth to obtain audio effects that replicate environments being watched on a television.
VSX-42
VSX-60
Suggested Price
$450
$650
Power
80 watts x7
90 watts x 7
AirPlay
Yes
Yes
iPhone/iPad / Android Control
ControlApp
iControlAV2012
Ethernet
Wired
Wired/Wireless (with optional adapter)
Network Content
Windows 7 / DLNA 1.5/ vTuner / Pandora
Windows 7 / DLNA 1.5/ vTuner/ Pandora / SiriusXM
HDMI (V.1.4a with 3D, ARC)
In/Front/Out
6/0/1
6/1/1
Video Processor
HDMI 1080p
HDMI 1080p/24fps / Advanced Video Adjust
Pioneer Sound Enhancements Steps
Auto MCACC / Phase Control
Advanced MCACC/ Phase Control Plus/ PQLS Bitstream/ Auto Sound Retriever
Multi-Zone
2 Zone Analog Audio
2 Zone Analog and Network Audio
Price and Availability
Pioneer Elite VSX-42 7.1-channel A/V Receiver → $450
Pioneer Elite VSX-60 7.2-channel A/V Receiver → $650