7.1-Channel 3D Ready THX Select2 Plus Receiver
Made for iPhone® Certified
iControlAV App for iPhone / iPod® Touch free on the App Store
HDMI® (V.1.4a with 3D & Audio Return Channel) 5 Inputs (Including 1 Front Input) / 1 Output
Marvell® Video Scaler
THX® Select2 Plus Processing & Certification
Ethernet Input for Access to Thousands of Internet Radio Stations
PC Browser Control
Suggested Price: $800.00
The VSX-32 offers 6 HDMI inputs, including 1 on the front panel which support the HDMI 1.4a specification and and Audio Return Channel (ARC).
The VSX-32 improves video resolution with Marvell's advanced Qdeo video processing, which lets you upscale your picture to digital 1080p/24fps from virtually any source, including analog.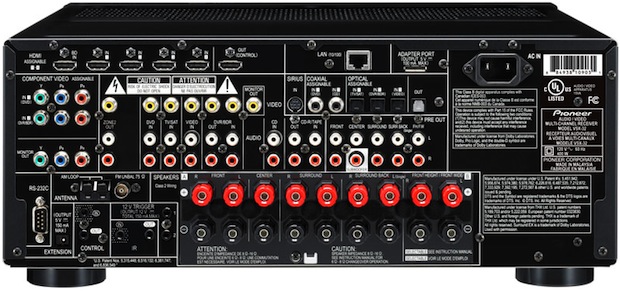 Pioneer's own Advanced Direct Energy amplifier design and Power Train construction concentrates all amplifier channels to minimize the amp's "power loop". This efficient design reduces noise interference from other circuits to further increase fidelity to the input source. Less interference means clearer sound and increased accuracy.
The VSX-32 adds an extra dimension of audio with Dolby Pro Logic IIz and THX Select 2 Plus certification in addition to Dolby TrueHD and DTS-HD Audio support.
The VSX-32 offers a 3-zone audio and video (audio only for 3rd zone) as well as partnerships with 3rd party controllers like Control4, Crestron and AMX ensure compatibility with the latest home automation technologies.
The "Made for iPhone®" certified VSX-32 effortlessly incorporates your Apple® products into your home theater. And with Pioneer's exclusive iControlAV app (downloaded separately via the Apple App Store) your iPhone or iPod touch® is transformed into a full-function remote control. The VSX-32 offers connectivity options for all your latest high-definition home theater components, plus support for two zones. RS-232 support means compatibility with the latest professional home automation systems from control leaders like Crestron® and Control4®. And the VSX-32 brings extensive connectivity for your digital media via Ethernet and a front HDMI® input, and compatibility with Bluetooth sources (using the optional AS-BT100 adapter, sold separately).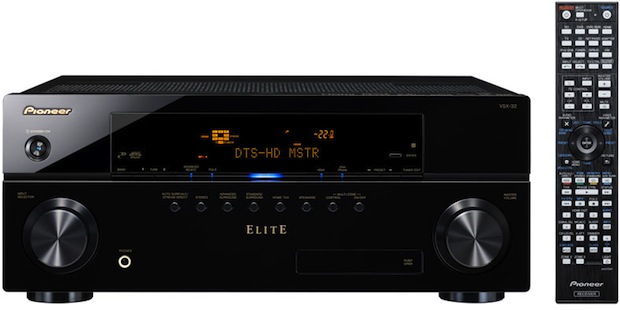 There are more ways to control your Pioneer VSX-32 than just your iPhone. There's a full-color on-screen GUI for use with the included preset remote, so you can make guided adjustments to your home theater sound. Not only that, but all Elite receivers let you connect a USB keyboard so you can rename stations for radio and Internet radio, network settings, and more. For further control, the VSX-32 includes PC control software, so you can control your home theater right from your PC or laptop.
Product Sheet (pdf)
Owners Manual (pdf)