Pioneer announced five double-DIN multimedia car receivers that deliver exceptional audio and video entertainment, optional navigation, and connectivity options for iPhone. The new AVH models are packed with features including a range of touch-screen displays in sizes ranging from 5.8 to 7-inches, MIXTRAX (AVH-P8400BH) technology, Advanced App Mode (AVH-P8400BH), smartphone connectivity, advanced user interfaces, Bluetooth connectivity, HD Radio Technology and more.
MIXTRAX (AVH-P8400BH)
Integrated in the flagship AVH-P8400BH model is Pioneer's new MIXTRAX feature that transforms a consumer's music library into a nonstop, customizable playlist that delivers a unique DJ infused listening experience. Using Pioneer's free MIXTRAX music management PC software, the user's entire music collection is analyzed and various musical attributes, including tempo and beats per minute (BPM), are identified. The software automatically creates an assortment of playlists categorized in different genres and musical styles such as Beat, Chill, and Thump. The advanced analysis of the software identifies the best transition points of each song in the music library and seamlessly mixes and blends the tracks together, much like a DJ performing live. The feature is further enhanced with on-screen elements, animating the album art along with the music.
App Mode (All Models)
Available on all 2012 audio video receivers, Pioneer's App Mode feature offers access to streaming video content on a compatible iPhone 4 and iPhone 4S from Safari, YouTube and other select apps when the vehicle is in park and the hand brake is fully engaged.

AVH-P1400DVD
Bluetooth (All Models, except AVH-P1400DVD)
Integrated into four of the five new models, Bluetooth connectivity is built-in to provide a wireless communication and data connection to Bluetooth enabled devices. For 2012, the Bluetooth profiles include the Hands-Free Profile (HFP) for wireless calling and receiving; the Advanced Audio Distribution Profile (A2DP), which allows wireless audio streaming; and the Audio Video Remote Control Profile (AVRCP) version 1.3, which provides wireless control of devices and related metadata (if available) to be viewed directly on the Pioneer touchscreen display. To simplify the Bluetooth pairing process, all Bluetooth-equipped models support the Secure Simple Pairing (SSP), which allows the user to pair compatible devices without the need to input PIN codes.
HD Radio (AVH-P3400BH, AVH-P4400BH, and AVH-P8400BH)
Three models, the AVH-P8400BH, AVH-P4400BH and AVH-P3400BH, feature integrated HD Radio tuners, providing a clear digital connection to HD Radio broadcasts from radio stations around the country where available. In addition to great audio quality, additional information such as artists and song titles can be viewed on these models' large displays. The AVH-P8400BH is also the first Pioneer audio video receiver to support the HD Radio Artist Experience feature which allows the user to view album art or station logos in addition to the displayed metadata (when available).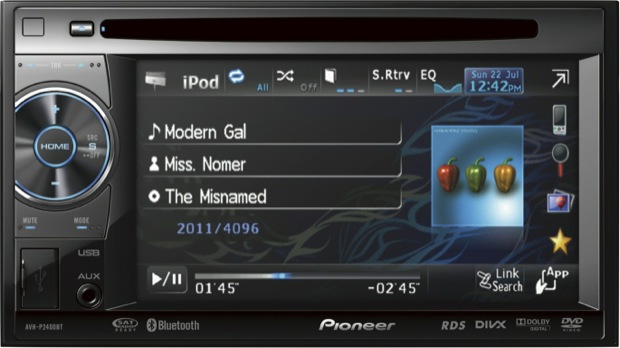 AVH-P2400BT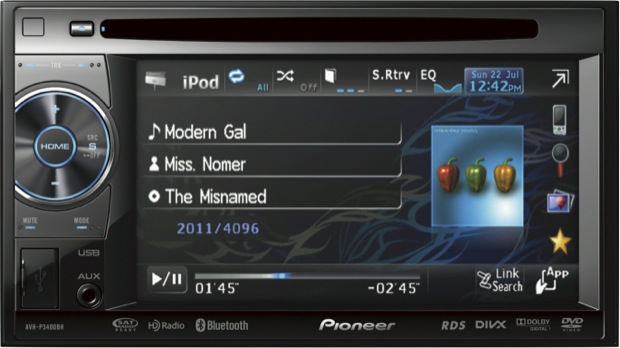 AVH-P3400BH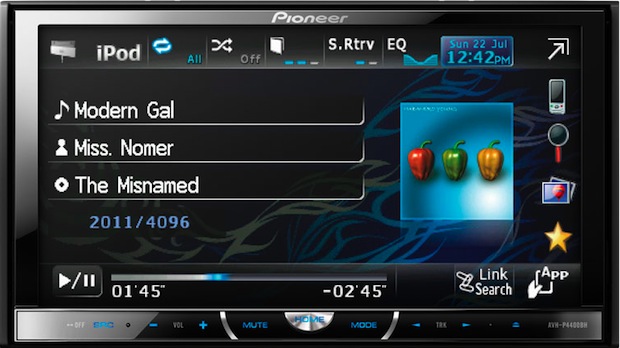 AVH-P4400BH
Integrated Features
Pioneer's new AVH series audio video systems are designed with modern and sleek cosmetics utilizing minimal buttons and a new Home button to conveniently take users to the main screen at any time. The hardware of the AVH-P8400BH (VGA display) and AVH-P4400BH (QVGA display) shares similar cosmetics with Pioneer's flagship navigation system with a large 7-inch high-quality touch panel display, while the AVH-P3400BH, AVH-P2400BT and AVH-P1400DVD use 5.8-inch QVGA touch panel displays and large buttons for easy access to key controls and features.
Pioneer's intuitive Touch Slide Control is also further enhanced by integrating a new finger EQ setting capability to quickly change sound settings with a swipe of a finger on the AVH-P8400BH's large screen.
USB integration is also enhanced in the lineup with multiple ports available, dual rear connection on the flagship AVH-P8400BH, and single ports on either the front or back on lower models. USB connections enable users to play back audio/video media stored on a flash drive, hard drive, media player and/or smartphone. In addition, the USB connections offer up to one amp of DC current for faster charging of battery powered USB devices.
The AVH-P1400DVD, AVH-P2400BT and AVH-P3400BH models feature a 5.8-inch TFT touchscreen display, three 2-Volt preamp outputs, DVD/CD playback, DivX/MP3/WMA/AAC playback, front aux inputs, Pandora internet radio connectivity, and navigation-ready connectivity, as well as integrated Bluetooth and HD Radio options. In addition, The AVH-P4400BH and AVH-P8400BH feature larger 7-inch screens, rear USB connections, rear aux inputs, integrated HD Radio and built-in Bluetooth connectivity.
Price and Availability
Pioneer AVH-P1400DVD (5.8-inch) → $300 (available February 2012)
Pioneer AVH-P2400BT (5.8-inch) → $350 (available February 2012)
Pioneer AVH-P3400BH (5.8-inch) → $400 (available February 2012)
Pioneer AVH-P4400BH (7-inch) → $500 (available February 2012)
Pioneer AVH-P8400BH (7-inch) → $650 (available March 2012)