Perceptive Pixel today unveiled the first professional multi-touch desktop display, high-resolution, optically-bonded, projected capacitive 27″ LCD display at Display Week 2011.
This is the first and only solution with performance and a form factor appropriate for professional users in fields such as geo-intelligence, digital content creation, computer-aided design (CAD), energy exploration, medical imaging and other visualization-intensive sectors. The new 27″ display empowers users to work directly on screen to access and manipulate complex data and workflows, leading to higher productivity and faster decision-making.
Perceptive Pixel is renowned for its large-format solutions such as the Multi-touch Walls seen at many broadcast networks and the 55″ LCD workstations deployed widely in government and defense installations. With the availability of a desktop-scale solution, professionals can now harness the power of Perceptive Pixel's advanced multi-touch interfaces in their daily work environment.
"This is literally the most advanced
desktop display in the world,"
— Jeff Han, Founder, CEO and
Chief Scientist at Perceptive Pixel
True multi-touch at this scale and fidelity was previously technically impossible. While projected capacitive technology is widely used in smaller handhelds and slates, it is notoriously difficult to deploy at large display sizes or if the sensor glass is placed close to a display due to electrostatic interference from the LCD panel itself.
To date, the industry has barely been able to achieve 24″+ diagonals; and in order to do so, manufacturers typically distance the sensor glass so far from the display, and with such a stiff thickness, that the resulting parallax makes the device unusable for serious applications. Worse, visual quality suffers tremendously from such a construction.
Perceptive Pixel engineers have achieved an industry first by optically bonding the sensor glass to the display, completely solving the parallax issue and resulting in gorgeous optics, while achieving an even better touch performance and an industry-shattering response time of under 1 millisecond.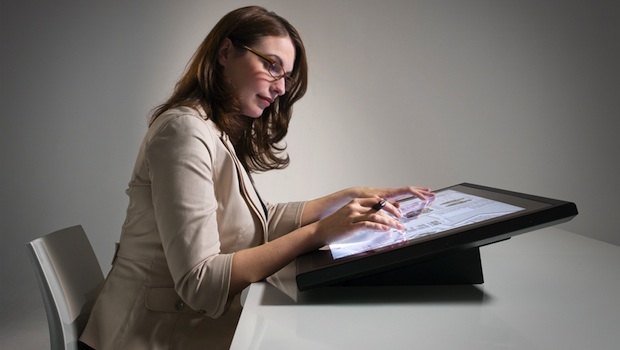 "Our new 27″ display is the first product to employ our patented projected capacitive (Pro-Cap) controller technology. It's a game-changer for the industry," said Han. "With our partners, we will fundamentally transform the way we work with computers. This new technology is a critical part of Perceptive Pixel's growth strategy, and it opens up tremendous opportunities for the display industry at large."
"NVIDIA Quadro GPUs and SDI capture cards help Perceptive Pixel continue to deliver state-of-the-art, multi-touch, interactive technology," said Jeff Brown, general manager, Professional Solutions Group, NVIDIA. "Harnessing the power of Quadro to provide the best possible graphical touch experience in their new 27-inch display ensures the same incredible visualization performance that users enjoy with their larger systems."
The display is available immediately for purchase. → Check price.
About the Perceptive Pixel 27″ Multi-touch Display
Display
Optically bonded
27″ diagonal IPS (in-plane switching) LCD panel
LED backlight
Direct-drive zero-latency video processing
Resolution: 2560×1440
Colors (maximum): 16.7 million
Viewing angle: 178° horizontal, 178° vertical
Brightness (typical): 400 cd/m2
Contrast ratio (typical): 1000:1
Display response time (typical): 6.5 ms
Optically Bonded
Results in very low touch parallax (the distance between the display image and the touch surface)
Eliminates inter-reflections for crystal clear, uncompromised visual clarity
Mechanically robust, durable surface
Patented PPI Multi-Touch Projected Capacitive Controller
True full-field multi-touch sensing with unlimited number of simultaneous touches and palm/forearm/object recognition
True zero-force sensitivity
High SNR (signal-to-noise); passes the "back of the fingernail" test
Operable with bare fingers, latex/vinyl/nitrile gloves, fingernails
Perfect edge uniformity
Fast constant 120Hz sample rate
Ultra-low latency (under 1ms)
Industrial Design
Huge interaction workspace, spaciously accommodating both of the user's hands
Ergonomic flush-front bezel with oversized palm-rest border
Innovative overscan sensing area
Interaction surface is a thermally managed, chemically strengthened glass with anti-friction coating
A variety of ergonomic articulating mounts offered
About Perceptive Pixel:
Perceptive Pixel was founded in 2006 by Jeff Han, a recognized leader in the touch technology field, and focuses on the research, development and production of multi-touch interfaces for the knowledge worker. The company's patent-pending technologies enable users to manipulate complex datasets through intuitive, powerful and visually rich interface techniques. The company's products are used in broadcast, defense, energy exploration, geo-intelligence, industrial design and medical imaging. The company's large screen, multi-touch products gained early recognition for transforming the way CNN covered the historic 2008 U.S. Presidential elections. Perceptive Pixel was awarded the 2009 National Design Award from the Smithsonian in the inaugural category of Interaction Design. Perceptive Pixel is privately held and headquartered in New York, with offices in Portland, Palo Alto, Calif., and Washington, D.C.