PENTAX announced the Optio S1 digital compact camera with advanced, easy-to-use features and an eye-catching, gem-like finish. Available in striking Chrome or a glossy Black or Green, the Optio S1 is a fashionable and elegant digital camera with an ultralight body featuring:
A high resolution 14 megapixel sensor for exceptional image detail.
Wide angle 5X optical zoom lens (28-140mm) for flexible image framing.
Ample 2.7 inch LCD for easy capture and playback of images and video.
Sensor-shift PENTAX Shake Reduction (SR) system for sharp low light and telephoto images.
Widescreen 720p HD video capture.
Powerful PENTAX Auto Picture mode for set-it-and-forget-it shooting convenience.
Fast Face Detection, Smile Capture, and Blink Detection for perfect portraits.
High Dynamic Range (HDR) mode for outstanding detail in wide exposure images (new to PENTAX digital compact cameras).
PENTAX infrared remote control (remote purchased separately).
Versatile 5X optical zoom lens with 28mm wide-angle coverage
The ultra-compact Optio S1 features an 5X optical zoom lens covering focal lengths from 5mm to 25mm (equivalent in the 35mm format to approximately 28mm wide angle to 140mm telephoto) that may be used for a wide variety of subjects and scenes including landscapes, architecture, group portraits in confined spaces, and tightly cropped snapshots taken from a distance. An Intelligent Zoom function allows even tighter zooming in on the subject, extending the digital zoom range up to 33.5X with no loss of image fidelity.
Exceptional image quality
With exceptional image resolution of 14 effective megapixels and an advanced imaging engine with a high-performance PENTAX zoom lens and a mechanical Shake Reduction (SR) system, the Optio S1 delivers brilliant, high-quality images with well-defined details even when enlarged to poster size.
Triple Shake Reduction (SR) image stabilization technology to prevent image blur Sensor-shift SR
The Optio S1 offers and advanced sensor-shift SR mechanism for sharp, blur-free images even when shooting telephoto shots, sunsets or indoor scenes in incident light. The camera compensates for camera shake up to approximately three shutter steps.
High-Sensitivity Digital SR
The Optio S1 automatically raises the sensitivity as high as ISO 6400 for higher shutter speeds to minimize the adverse effects of camera shake and subject movement when shooting still images in low-light conditions.
High-quality, widescreen HD movie recording with dedicated REC button
The Optio S1 captures detailed movie clips at 16:9 high-definition TV resolution (1280 x 720 pixels) at a frame rate of approximately 30 frames per second. A new, dedicated Movie REC button positioned on the back panel initiates movie recording from any shooting mode without delay.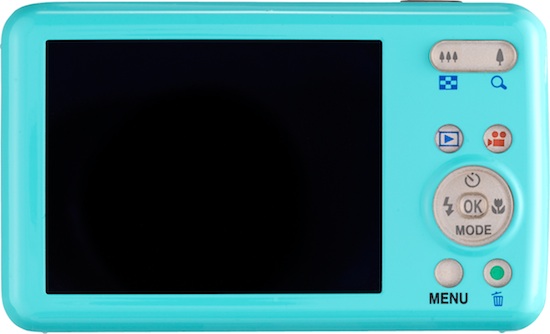 Advanced, user-friendly Auto Picture mode for hands-off selection of the best shooting mode
The Optio S1 features the PENTAX-original Auto Picture mode that automatically selects the most appropriate shooting mode for a given subject or scene by accurately and instantly accessing all photographic conditions affecting the subject or scene. This set-it-and-forget-it mode detects 14 different subjects and scene types including people, landscape, blue sky, sunset, and more. The mode instantly optimizes all camera settings such as sensitivity and shutter speed for the quality images for the type of subject and scene identified.
Upgraded face detection for greater convenience
A new-generation Face Detection AF & AE function instantly and accurately detects the subject's face in the image field and a Natural Skin mode reproduces natural, healthy skin texture.
Creative digital filters and tools
The Optio S1 offers nine digital filters, including Toy Camera and Retro, to add various creative visual effects to recorded images without a computer. A new Miniature filter converts any scene into an image full of miniatures, and an HDR filter (first ever on a PENTAX compact) produces images with outstanding exposure detail in wide exposure situations.
Price and Availability
The ultra-compact Optio S1 is the perfect choice for digital photographers who want a very capable, yet classy, digital camera. Available later this month, the camera will be priced at $199.95.
Reviews Around the Web:

pentax optio s1