Classic Designed Digital Camera with Modern Features
PENTAX Imaging Company just announced the slim and stylish PENTAX Optio I-10 with a design inspired by the classic look of film SLR cameras. This head-turning first model in the new Optio I line features a flash unit and speaker in the upper mid-section of the SLR-shaped body while the camera's front panel is embellished with high quality leatherette texture and the classic PENTAX logo placed front and center. The Optio I-10 features a wide angle, 5X optical zoom lens (28mm-140mm equivalent), a 12.1 megapixel high resolution CCD sensor, a 2.7 inch widescreen LCD, and HD video capture at 720p and 30 FPS. For optimal image capture, the camera features a mechanical sensor shift Shake Reduction system and improved Pixel Track Shake Reduction technology for blur-free images as well as Smile Capture, Blink Detection and improved Face Detection that spots up to 32 faces including dogs and cats. The Optio I-10 is remote control and Eye-Fi compatible (sold separately) and will ship in February 2010 in a choice of Classic Black and Pearl White for $299.95 USD.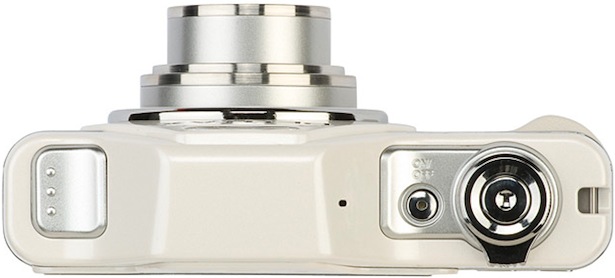 PENTAX OPTIO I-10 FACT SHEET
SLR inspired design
The nostalgic, eye-catching design of the Optio I-10 resembles classic film SLR cameras.
PENTAX positioned the flash unit and speaker in the upper mid-section of the camera body
to create this original SLR-shaped body, and the leatherette texture and classic 20th century PENTAX logo add elegance to the camera design.
Optical 5X wide angle to telephoto zoom lens
The Optio I-10 features an optical 5X zoom lens that covers focal lengths from 5.1mm to 25.5mm (equivalent in the 35mm format to approximately 28mm wide angle to 140mm telephoto). This wide zoom range allows the Optio I-10 to capture a wide variety of subjects and scenes from breathtaking landscapes, majestic architecture and group shots in a confined space, to tightly cropped photos shot from a distance. An Intelligent Zoom function allows even tighter zoom on subjects and extends the digital zoom range to approximately 31.3X.
12.1 effective megapixels for exceptional image quality
With 12.1 effective megapixels, a high-performance imaging engine, and the camera's high performance PENTAX zoom lens, the Optio I-10 delivers brilliant, high quality images with well-defined details. Even when enlarged, the images deliver sharp, high-resolution prints with edge-to-edge sharpness.
Improved Face Detection recognizes dogs and cats
The Optio I-10 features an improved Face Detection AF & AE function that detects up to 32 faces in the image field and captures them all in sharp focus with optimal exposure in just 0.03 seconds. This upgraded Face Detection technology now allows users to adjust the camera to detect dogs and cats. Users may program the camera to automatically release the shutter the moment the subject faces the camera, which is especially helpful for pet photography.
Triple anti-shake protection
CCD-shift-type SR mechanism
The Optio I-10 incorporates an advanced CCD-shift-type Shake Reduction (SR) mechanism that compensates for camera shake by shifting the camera's image sensor (CCD) horizontally and vertically in relation to the amount of shake detected by the high-accuracy gyro sensor. This offers outstanding camera-shake compensation equivalent to up to 2.5 shutter steps even when shooting telephoto or in lowlight settings such as sunsets or indoors.
High-Sensitivity anti-shake mode*
The Optio I-10 automatically raises the sensitivity to as high as ISO 6400 in low-lighting conditions in still-image shooting making it possible to use a higher shutter speed. This effectively minimizes the adverse effects of camera shake and subject shake under poor lighting conditions.
Movie SR mode**
PENTAX Movie SR mode allows the Optio I-10 to digitally minimize camera shake to prevent blurry footage in movie recording mode.
* When the High-Sensitivity anti-shake mode is selected, the recorded size is fixed to 5M (2592 x 1944 pixels).
** When the Movie SR mode is selected, the angle of view becomes narrower than normal shooting.
HD movie recording
The Optio I-10 captures flawless movie clips at 16:9 high-definition TV proportions (1280 x 720 pixels)* at 30 frames per second. This mode also offers a variety of editing functions that allows users to extract still images, divide longer clips, and add title images to video clips.
*When the Optio I-10's AV output terminal is used, movie clips are output as normal image-size data. If the user wishes to play back movie clips at high-definition-TV proportions (1280 x 720 pixels), the data must be transferred to a personal computer for playback.
Picture In Picture function for constant display of a favorite image on the screen
The Optio I-10 offers new Picture In Picture function, which allows users to display a thumbnail of a recorded image in the upper left corner of the LCD panel. This function is handy when photographers want to reference a recorded image to shoot subjects from the same angle and at the same image size every time (as in food or macro photography) or when users simply want to maintain a favorite image on the screen.
Creative digital filters to process recorded images
The Optio I-10 features 11 digital filters to add various visual effects to recorded images without touching a computer. Filters include Monochrome, Sepia, Toy Camera, Soft filters, and Starburst to create cross, heart or star-shaped highlights from nighttime illuminations or water reflections. Users may apply multiple filters to a single image.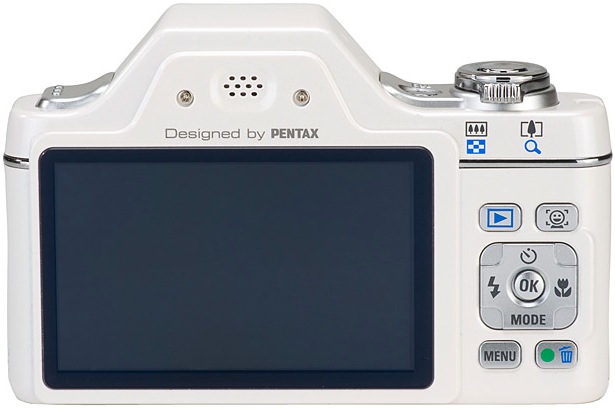 Additional features
Eye-Fi connected: optimized for use with Eye-Fi wireless memory cards
Wireless remote shooting using optional PENTAX remote controllers
Auto Picture mode to automatically select one of the eight shooting modes for best results
D-Range setting to prevent whitewashed (overexposed) and blacked-out (underexposed) areas in images
Original Frame function to add a decorative frame and/or letters/characters to a recorded image
Digital Panorama mode to create a single panoramic picture from as many as three images
Digital Wide function to compose an ultra-wide-angle picture (roughly equivalent to an image taken with approximately 21mm lens in the 35mm format) from two images
Menu Magnification function to enlarge menu items for easier viewing
MediaImpression 2.0 for PENTAX image viewing, editing and filing software included (compatible with latest operation systems, such as Windows 7 and Mac OS X 10.6)