Affordable 10-megapixel camera with movie mode
PENTAX Imaging Company announced the latest model in the easy-to-operate, affordable Optio E series is the PENTAX Optio E90. Priced at just $99.95 USD, the Optio E90 features a 10 megapixel CCD, a 3X wide angle zoom (32mm-96mm equivalent) and a large 2.7 inch LCD housed in a luxurious rubber coated body for a sure grip. The Optio E90's features a travel-friendly design with AA battery compatibility. Auto Picture mode selects the best shooting settings for the scene, and a high 6400 ISO that freezes subject movement in Digital SR (Shake Reduction) mode. The Optio E90 features an intelligent ergonomic design with a sure grip and an easy menu that makes the E series a popular choice. Available in Black and Wine Red, the Optio E90 will ship in February 2010.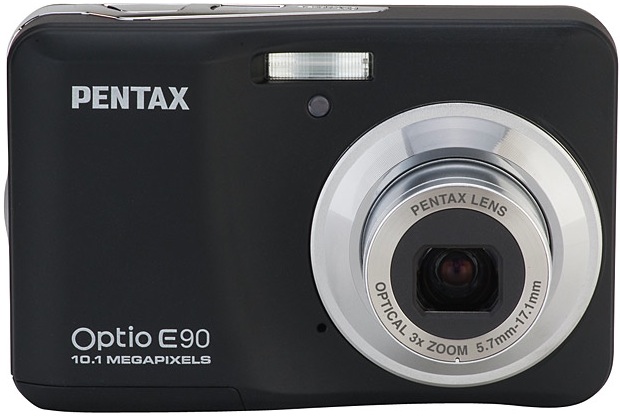 PENTAX OPTIO E90 FACT SHEET
10.1 effective megapixels
Featuring 10.1 effective megapixels and a high-performance PENTAX zoom lens, the Optio E90 delivers brilliant, high quality images with well-defined details. Even when images are enlarged, the camera delivers sharp, high-resolution prints with edge-to-edge sharpness.
Optical 3X zoom lens covering angles as wide as 31.5mm
The Optio E90 comes equipped with an optical 3X zoom lens covering focal lengths from approximately 31.5mm to 94.5mm (in the 35mm format). The 31.5mm wide-angle coverage is perfect for confined spaces as well as landscapes, magnificent structures or group snapshots. The Intelligent Zoom function, which allows even tighter zooming in on the subject without compromising image quality, extends the digital zoom range to approximately 17.1X.
Comfortable, easy-to-hold grip
The Optio E90's exterior has been treated with a luxurious, satin-like, non-slip rubber coating and the right-front panel is slightly raised to form fatigue-free, firm camera grip.
Travel friendly AA-size battery compatibility
Two universally-available AA-size batteries power the Optio E90 and replacements may be found almost anywhere in the world. The energy-efficient design captures approximately 600 images* with a pair of fresh lithium batteries.
* Based on measurement conditions conforming to CIPA specifications.
Automatic Face Detection with Smile Capture function
The Optio E90 features advanced Face Detection AF & AE function that automatically detects the subject's face then optimizes the focus and exposure settings. The camera also is equipped with a Smile Capture function to detect a smile on a subject's face and releases the shutter automatically.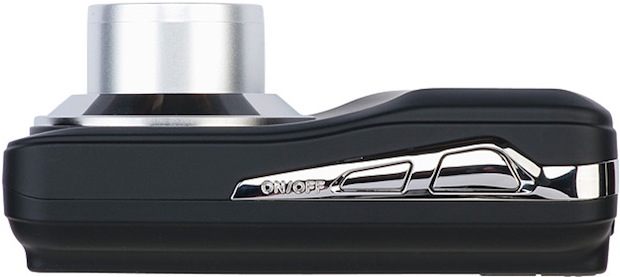 Auto Picture mode for automatic selection of the ideal shooting mode
The Optio E90 features PENTAX-original Auto Picture mode that automatically and instantly selects one of eight shooting modes (Landscape, Portrait, Night Scene, Night Scene Portrait, Flower, Sport, Standard, and Candlelight) for a specific subject or scene. This user-friendly mode helps photographers capture beautiful, high quality digital images of various subjects and scenes, without having to worry about making the proper adjustments to their capture settings each time.
Green mode for beginners
The Optio E90's user-friendly Green mode automatically selects the optimum combination of exposure settings, ISO sensitivity and other factors for a given subject or scene for high quality digital photography that is simple and effortless even for first-time digital photographers. This feature retains settings when the user asks someone else to take a picture or when a user has lost track of camera settings.
Double anti-shake protection
High-Sensitivity anti-shake mode
When the Optio E90's Digital SR mode detects low-lighting conditions in still-image shots, the camera automatically raises sensitivity to as high as ISO 1600, making it possible to use a faster shutter speed to minimize adverse effects of camera and subject movement under poor lighting conditions.
Movie SR mode**
PENTAX Movie SR mode allows the Optio E90 to digitally minimize camera shake to prevent blurry footage in movie recording mode.
** When the Movie SR mode is selected, the angle of view becomes narrower than normal shooting.
Digital filters for personal, creative touches
The Optio E90 comes equipped with six digital filters to add various visual effects to recorded images without a computer including Monochrome, Sepia, and a new Starburst filter to create cross, heart or star-shaped highlights from nighttime illuminations or reflections on the water. Users may apply multiple filters to a single image.
Digital Panorama mode to compose extra-wide-perspective images
The Optio E90 features the creative Digital Panorama mode that automatically creates a single panoramic picture from as many as three images. Users simply move the camera sideways (or up and down) as they capture images and follow instructions to stitch the images together. This mode captures expansive subjects, such as spectacular landscapes or high-rise buildings that may not be captured in a single standard-format image.
Additional features
Large 2.7 inch, high-brightness color LCD monitor with approximately 230,000 dots for comfortable viewing of images and menus
Recording of beautiful movie clips (640 x 480 pixels) almost equal in quality to those recorded by a video camera
World-time function to keep track of local time for 75 cities in 28 time zones around the world
Image recovery function to retrieve accidentally erased images
MediaImpression 2.0 for PENTAX image viewing, editing and filing software included (compatible with latest operation systems, such as Windows 7 and Mac OS X 10.6)
High-speed continuous shooting mode to record 16 images (fixed at 640 x 480 pixels) in a mere two seconds