Durable, spill resistant notebook built for kids
PeeWee PC has announced the availability of the new PeeWee Power Laptop. The rugged 3.5 pound PeeWee Power features a durable drop-proof construction and spill resistant keyboard, making it the ideal first computer for children aged 4-8. PeeWee PC loads each computer with 15 educational software titles providing the young end users access to different games as they progress from pre-kindergarten into early elementary and finally upper elementary students.
"All PeeWee PC computers are designed with equal parts fun, safety, education and durability." said Oscar Ferreria, President and Co-Founder of PeeWee PC. "The new Power Laptop meets that criteria and addresses the needs of both the children we strive to empower and their rightfully protective parents."
PeeWee PC places an emphasis on security and also includes its PeeWee Patrol and PeeWee Privacy software on every computer it builds. PeeWee Patrol provides parents with an aggressive internet watchdog program that both monitors their children's activity and blocks websites flagged as inappropriate. PeeWee Privacy allows parents to restrict access to certain files and folders on the laptop's hard drive and enables moms and dads to set time restrictions on how long and when their children are using their computer.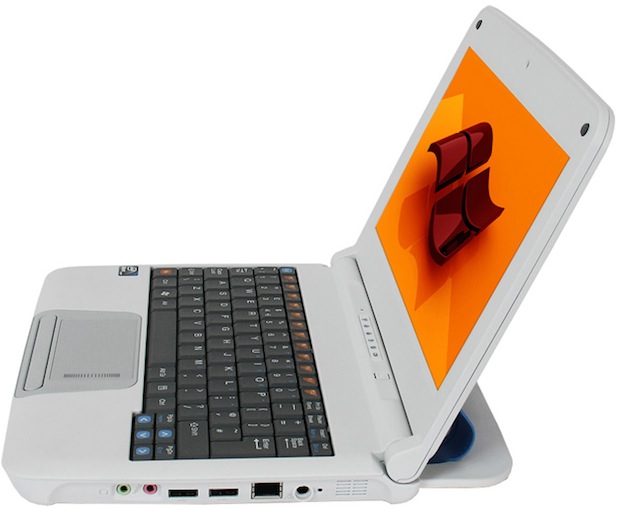 The new PeeWee PC Power Laptop features the Intel Atom N450 processor, 1GB of memory, a 10.1 inch LCD screen, 6-cell battery, mouse and Windows XP operating system. PeeWee PC offers a 3 year no fault warranty on all its notebooks and provides lifetime technical support. The PeeWee Power Laptop is priced at $499.99 MSRP and is available now.
Specifications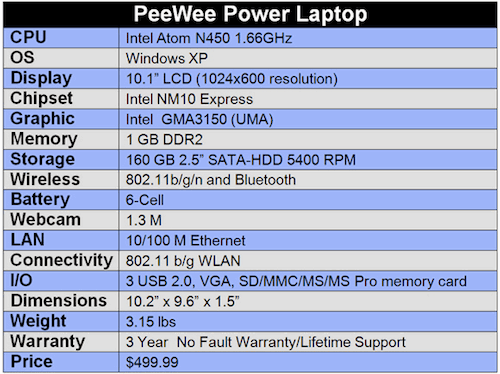 About PeeWee PC
Founded in 2008, PeeWee PC works to empower children by providing safe, smart, and customized computing solutions. PeeWee PC designs and sells desktops, notebooks, software and computer accessories for children built with a focus on learning, durability, and safety. Every PeeWee PC computer ships with the company's proprietary security suite to ensure children can safely browse the internet.