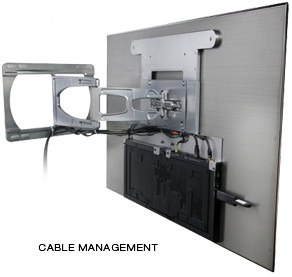 First Non-Flat Mount Designed Exclusively for Samsung 9000 Series 3D LED HDTV
The new Peerless SUAC9000 Ultra Slim Articulating Wall Mount is the first solution that lets you extend, tilt and swivel the screen on this new Samsung Class 9000 Series 3D LED HDTV by as much as 90 degrees – providing all the right moves to accommodate any room setup.
Special Solution Needed
Standard articulating mounts cannot be used with the Samsung C9000 Series because of the unit's unique design. All of the Samsung electronics are located in a connection panel concealed beneath the stand. To install the display on a wall, the panel must be removed from the base and attached to the back of the screen. Standard mounts cannot fit over the panel housing, and the mounting kit provided by Samsung allows the display to be hung only in a fixed position. This limits visibility when the room shape or configuration forces less-than-ideal TV placement. It also prevents viewing from adjacent rooms.
The new articulating Peerless mount — designed exclusively for the 9000 Series — is the first to solve the problem. A special adapter plate enables the mount to be attached over the connection panel, while the articulating arm allows the display to be positioned at any angle for full visibility wherever viewers are sitting.
Maximum Movement
When retracted, the Peerless SUAC9000 mount holds the Samsung screen a mere 1.25″ from the wall. This ultra-slim profile all but hides the mount as well as maintaining the super-svelte look of the 0.3″-deep Samsung HDTV.
When extended, Peerless' articulating arm allows the Samsung Class 9000 Series HDTV to pivot a full 90 degrees left or right, tilt 5 degrees forward or backward, and pull out as much as 28.9″ to suit the space. This allows optimal positioning in any room, regardless of the distance, angle or height of the installed display from the viewer.
Fits Both Models
The Peerless SUAC9000 Ultra Slim Articulating Wall Mount fits both the 46″ and 55″ models of the Samsung Class 9000 Series 3D LED HDTV. It has a gloss silver finish that complements the Samsung's titanium brushed silver luster, integrated cable management, and is UL Certified for safety.
Price and Availability
The Peerless SUAC9000 mount is available now for $549.
Reviews Around the Web:

peerless suac9000