Motion Sensing Technology and Smart Styluses Provide Gamers a New Dimension of Game Play
Performance Designed Products ("PDP") unveiled its latest technology that will change the face of gaming, introducing two new products at this week's Game Developers Conference in San Francisco.
Gametrak Freedom™ is a proprietary and patent-pending ultrasonic 3D motion sensing technology that delivers performance, increased control and flexibility. The system is comprised of a base unit, which attaches to the Xbox 360 video game and entertainment system from Microsoft via USB, and a hand-held controller. Unlike other motion sensing gaming systems, Gametrak Freedom™ does not rely on the gamer pointing a controller at the screen, nor does it restrict the gamer to limited movements. The system accurately tracks the true 3D position and precise movements of up to four players anywhere within a given environment. This technology provides players with total control and unrivaled game play opportunities.
Gametrak Freedom
PDP will launch the Gametrak Freedom™ exclusively for Xbox 360 in fall 2009. The system will be bundled with "Squeeballs™," a game specifically developed to showcase the technology. PDP recently received a worldwide product licensing agreement to publish games for Xbox 360, and "Squeeballs" is their first Microsoft-approved title.
"Squeeballs™" is a collection of over 150 unique challenges that showcases the capabilities of the controller. In the game, Squeeballs are toys that are manufactured on a secret island somewhere in the Pacific. Before the Squeeballs can be sold to children across the world, they must be fully tested by the players of the game. By using the controller, players can blow up, cook, slice, bat, bowl, shoot and bounce the Squeeballs with greater accuracy than is capable with any other controller.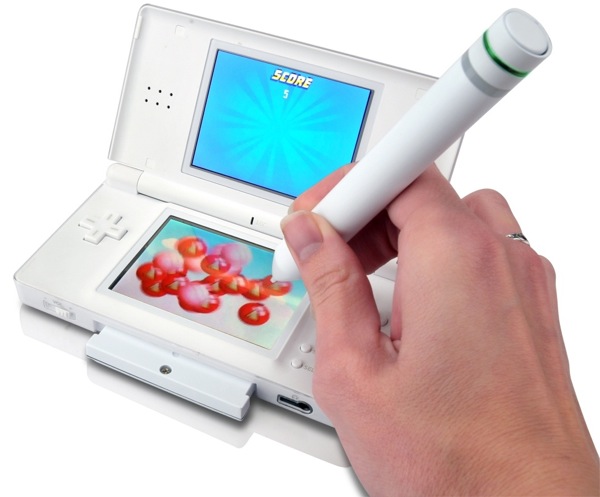 SmartStylus
PDP also unveiled the new revolutionary wireless SmartStylus™ 1 and 2 devices for the Nintendo DS™. The patent-pending SmartStylus™ 1 and 2 both feature a vibration feedback that players using the stylus will feel based on movements and commands in the game. The SmartStylus™ 2 can include a variety of added features, including LEDs, sound and motion feedback. With the motion feedback capability, the stylus can now act as a motion input device, allowing you, for example, to hit a home run by swinging the stylus off the DS screen. The SmartStylus™ 1 will launch this fall and is pending licensing by Nintendo.
"The technologies offered by both the Gametrak Freedom™ and the SmartStylus™ tools are the first of their kind," said John Moore, senior vice president of marketing for the California-based PDP. "PDP is excited to be introducing these new technologies. They will create a new level of gaming that can be enjoyed by the whole family."
PDP enjoyed a big year in 2008, with increased sales year over year compared with 2007. The company will be introducing several new gaming products in 2009.
About PDP
Performance Designed Products is an industry leader in designing and manufacturing products for all major video game platforms, including the Sony PS2, PS3, and PSP; Nintendo Wii, GameCube, and DS; and Microsoft Xbox and Xbox 360. The company has been supplying video game accessories to the U.S. market for more than a decade. PDP sells products under a variety of brands, with sales in the U.S., Canada, Mexico, and throughout Europe.
Patriarch Partners LLC, is a private equity investment firm with offices in New York, Charlotte, North Carolina and Dallas, Texas. Funds affiliated with Patriarch manage assets in excess of $6 billion and include majority and minority ownership positions in more than 70 companies. Founded by Lynn Tilton in 2000, Patriarch provides innovative financial solutions, strategic direction and operational expertise to its portfolio companies.