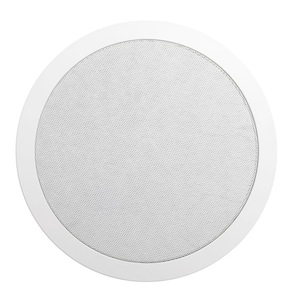 Parasound introduced updated versions of its C-Series in-ceiling loudspeakers for custom installers. It is also encouraging its customers to favor 8-inch systems to improve the quality of sound that customers experience from in-ceiling speakers.
The Version 2 Parasound C-Series C 85 v2 and C 65 v2 are 8-inch and 6-1/2-inch two-way in-ceiling speakers respectively. Compared with the C 85 and C 65, they represent a sizeable sonic upgrade in terms of their clarity and the uniformity of their in-room power response.
Further v2 upgrades include new less resonant woofer baskets, revised crossovers and more-robust terminals. The new bezels and grills are a more neutral white. The white fabric masks are not glued to the grills so installers can choose if they want to use it them. Not having to detach the masks also makes painting the grills easier and faster.
Price and Availability
The Parasound C 85 v2 and C 65 v2 are currently available from Parasound dealers for $415 and $285 per pair respectively. New construction mounting brackets are available for $25 per pair.
C 85 v 2 — 8″ Premium In-Ceiling Speaker

Woofer: 8″ with mica-filled polypropylene
cone
Tweeter: 1″ pivoting aluminum dome with Ferrofluid
Power range 10 – 100 watts RMS
Frequency response: 48 Hz – 20 kHz
Impedance: 8 ohms nominal, 6 ohms minimum
Sensitivity 89 dB, 1 watt/1 meter
Cutout hole diameter: 9-1/2″ (241 mm)
Outer frame diameter: 10-3/4″ (273 mm)
Mounting depth: 3-1/2″ (89 mm); fits in 2×4 stud wall
New construction bracket: NCB-8C,
purchased separately
MSRP: $415/pr

C 65 v 2 — 6-1/2″ Premium In-Ceiling Speaker

Woofer: 6-1/2″ with mica-filled polypropylene
cone
Tweeter: 1″ pivoting aluminum dome with Ferrofluid
Power range 10 – 70 watts RMS
Frequency response: 58 Hz – 20 kHz
Impedance: 8 ohms nominal, 6 ohms minimum
Sensitivity 89 dB, 1 watt/1 meter
Cutout hole diameter: 7-5/8″ (194 mm)
Outer frame diameter: 9″ (229 mm)
Mounting depth: 2-7/8″ (73 mm); fits in 2×4 stud wall
New construction bracket: NCB-6C,
purchased separately
MSRP: $285/pr
"We are putting more focus on the concept of 8-inch speakers as the default standard for in-ceiling applications. Compared to the usual 6-1/2 inch speakers, they produce fuller, richer bass at low listening levels, and in most homes ceiling speakers at played at fairly low levels. They also handle more power for applications such as home theater surrounds. Furthermore, 8″ ceiling speakers don't appear noticeably larger than 6-1/2″ ceiling speakers after they are painted to blend in with the ceiling."
— Richard Schram, Parasound's President and Founder