Extremely powerful without a trace of distortion, these new models feature six drivers and all of Paradigm's acclaimed Signature v.2 technology
Paradigm Electronics Inc., an international leader in speaker design and manufacturing, today added new on-wall speakers to its Reference Signature speaker line. More than three feet in length to accommodate their six cutting-edge drivers, the Signature W5 and W5 C (center channel) speakers complement any wall-mounted flat-panel display or discreet A/V installation without sacrificing power or realism.
Each of the new Signature W5 models features a three-way crossover design that contributes to measurably superior dispersion both on- and off-axis, as well as breathtaking dynamic range. The speakers boast cutting-edge P-Be™ Pure-Beryllium dome tweeters and Co-PAL™ cobalt-infused pure-aluminum bass and midrange cones, along with the full suite of Paradigm Reference Signature Series v.2 technologies, including bronze-anodized die-cast aluminum chassis for all drivers, "Reference" phase-coherent precision crossover networks, and AVS™ airflow ventilation system cooling.
Both W5 models also come with adjustable mounting supports for added acoustic flexibility. Tilting the W5 on the wall side-to-side can result in better imaging or a heightened sense of spaciousness, while adjusting the W5 C model up or down can further optimize clarity and dialog intelligibility. As with other Paradigm multi-channel speaker systems, the new W5 on-walls are timbre-matched, which means an identical sonic signature passessmoothly from speaker to speaker at all times (even when paired with Paradigm ADP™ surround speakers).
When used in center channel applications, two critical components lie behind Paradigm's superior timbre matching of the W5 C with rear and surround speakers: the precision and accuracy of the unified drive assembly and the sophisticated crossover design itself.
"People will be blown away by the performance of the W5s," said Mark Aling, Paradigm's marketing manager. "Before these speakers, you simply could not find on-wall models that produced audiophile-quality sound. We've yet to read or hear a bad review of our Signature v.2 technology, so we're confident the new W5s will impress even the most discerning ears."
Options for baffle and cabinet finishes include Cherry or Natural Birdseye Maple inlay with contemporary silver cabinet, or Piano Black inlay with dark gray cabinet.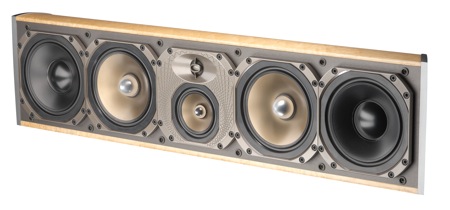 Both the Paradigm Reference Signature W5 and W5 C models are now shipping and have a U.S. FMV of $2,999 each.
For more information on Paradigm, please visit www.paradigm.com.