Dual-slide, Double-keyboard Pantech Matrix Available Now; "World's Thinnest QWERTY Keyboard," Pantech Slate, Coming for the Holiday Season
Pantech Wireless, Inc., — the U.S.-based subsidiary of Pantech Group, one of Korea's largest mobile phone manufacturers — announced the availability of the dual-sliding 3G Pantech Matrix, a full feature, double-keyboard handset part of AT&T's new line of quick mobile messaging phones. Debuting in red, blue and black with green trim, the Matrix brings Pantech's popular line of dual-sliding products to customers craving the convenience of both a QWERTY and numeric keypad in the same device. The new initiative also includes the Pantech Slate — the "World's Thinnest QWERTY Keyboard" handset, available later this month.
Pantech Matrix
As texting and email continue to increasingly dominate users' cell phone habits, the Matrix and Slate cater directly to customers that let their fingers do the talking. By including separate, spring-loaded keyboards, the Matrix optimizes fun and the array of on-board messaging options. Now users can surf the Web, get turn-by-turn directions with AGPS, and chat with friends on IM and email using the phone's large color screen in landscape and portrait views — all at 3G speeds. With double-stacked keyboards and cool color variations, the Matrix is a messaging lifeline that prioritizes personality and makes staying in touch faster and easier.
"For many of our customers, messaging has become their preferred and primary mode of communication," said Carlton Hill, vice president of Devices and Product Development for AT&T's wireless operations. "The Pantech Matrix gives these users exactly what they want — two keypads for optimal messaging ability in three trendy colors."
Key Pantech Matrix features include:
Dual-sliding Design — Spring-loaded keypads slide open in two directions: Horizontally — to reveal a full QWERTY keyboard, making the most of the large color screen in landscape mode for expanded viewing of Web pages, pictures, video and text conversations. And vertically — to uncover a numeric keypad for making quick number dialing easy in portrait view.
Personalization — Flaunt your personal style by choosing from three hot colors — red, blue and green.
3G Speeds — The nation's fastest 3G network from AT&T makes browsing the Web and using the full suite of on-demand video faster and more enjoyable.
AGPS — AT&T Navigator provides voice-guided, turn-by-turn directions in real time.
Music Playback and Storage — Play and store your favorite tunes, and also add new music using AT&T's MusicID recognition service, Napster Mobile and eMusic Mobile.
Video Recording and Picture Taking — Share pics and video clips via AT&T's Video Share calling.
"Our dual-sliders have been extremely popular and the Matrix is our response to users who want a more consumer-oriented messaging and entertainment device with a simplified user experience," said Patrick Beattie, vice president of sales and marketing, Pantech Wireless, Inc. "We are pleased that AT&T has selected the Matrix to help anchor this growing line of quick mobile messaging devices."
Also chosen to bolster AT&T's new line of messaging products is the Pantech Slate, the "World's Thinnest QWERTY Keyboard" handset, on track to launch later this month. Slate is a contemporary handset that brings the luxury of a full QWERTY keyboard to customers that don't want to be encumbered by a contract. Slate merges a host of messaging options with Bluetooth, a 1.3 megapixel camera, multimedia functionality and a side jog dial, to let users tailor their usage needs without sacrificing efficiency.
The Pantech Matrix is currently available at AT&T company-owned stores and online at www.wireless.att.com. Matrix is $79.99 after a two-year service agreement and a $50 mail-in rebate. The Pantech Slate launches in late October and will also be available at AT&T company-owned stores and online via the carrier's Website.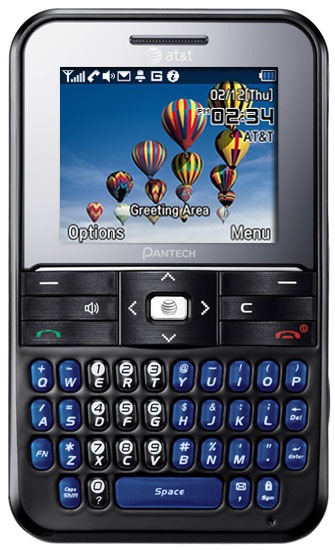 Pantech Slate