Audiophile AC Power Cable With Advanced Geometry and Large Diameter Conductors at a Competitive Price
Pangea Audio has announced the introduction of a premium quality high current AC power cable called the AC-9. The Pangea Audio AC-9 has been designed specifically to deliver the high current required by audiophile devices such as power amplifiers, powered subwoofers and high-current-demanding AC line conditioners. The AC-9's combination of superior materials, advanced geometry, and noise-fighting shields helps to deliver the best possible performance from connected components at a cost far below competitive products.
Because of their high-current requirements, power amplifiers benefit from heavier gauge conductors than those available in most traditional power cables. Although the AC-9 uses large-diameter conductors, it has also been designed to offer greater flexibility than other heavy-duty power cables, presenting less strain on the device's chassis while also being easier to work with in confined spaces.
When More is Actually Less
Until now, upgrade power cable products have been designed according to a 'more is better' philosophy, leading manufacturers to increase the diameter of the conductor and the thickness of the insulation in an attempt to improve performance, but at the expense of flexibility. The resulting thick, noncompliant cables put a severe strain on the chassis of connected components. Heavy, inflexible cables can also reduce the effectiveness of component isolation and suspension systems. Because power amplifiers do benefit from heavier gauge conductors, the AC-9 is thicker than its smaller sibling, the AC-14. However, it is only as thick as it needs to be for maximum performance, and it is still more flexible than competitive products.
Pangea AC-9 power cables are available now through authorized dealers and through their exclusive online/catalog retailer (www.audioadvisor.com). AC-9 cables range in price and size–from the 0.6 meter cable ($39.99) to the 3.0 meter cable ($99.99).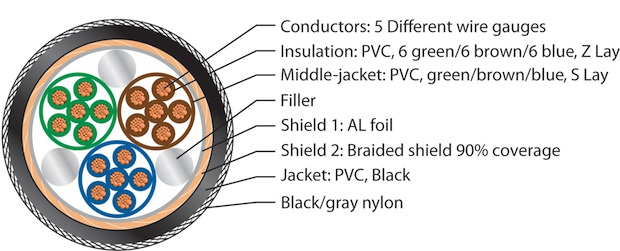 Pangea Audio AC-9 Features:
Designed specifically to deliver the high-current required by audio amplifiers, powered subwoofers, and AC line conditioners
99.99% purity OFC copper conductors for maximum conductivity
9-awg construction facilitates high-current power delivery
Five-way multi-gauge geometry optimized for 50/60 Hz AC power
Counter-spiraled and double shielded conductors offer superior noise rejection
Special two-shot molded connector bodies protect vital AC connections for maximum current delivery and long life
24K gold-plated contacts provide superior electrical contact
About Pangea Audio:
Pangea Audio is dedicated to bringing the world fine audio at sensible prices. Pangea products are based on the designs of engineer Jay Victor, holder of approximately 40 patents for cable geometry and connector design. Victor was instrumental in developing literally hundreds of audio products over approximately five years for prestigious brands. His prior background includes 12 years of intensive engineering work on such devices as x-ray cables and wire harnesses, proprietary connector design, and scientific test instrument design. All Pangea Audio cable designs are engineered and evaluated using sophisticated test instruments. However, all final design decisions are made only after intensive listening tests and comparisons with reference designs.