World's Most Rugged Handheld Tablet Computer
Panasonic just introduced the Toughbook H1 Field, the world's most rugged handheld tablet computer. The new device enables extreme mobility and productivity for field sales personnel, first responders, supervisors, inspectors, maintenance workers and other highly mobile professionals. Certified to meet IP65 and MIL-STD-810G — with a six foot drop rating — the Toughbook H1 Field offers the durability expected of Toughbook mobile computers, so users have the confidence to work in the most demanding conditions. With optional SmartCard, RFID, and barcode readers, camera, GPS and Qualcomm's new Gobi2000™ mobile broadband technology, the device helps to maximize mobile worker productivity.
By leveraging Panasonic's advanced battery technology and a 1.86 GHz Intel Atom™ processor, the Toughbook H1 Field offers a category-leading six hours of battery life, complemented by twin hot-swappable batteries that allow for limitless use, virtually eliminating down time and maximizing return on investment.
"As workforces become more mobile, it's critical to empower them with the right tools," said Kyp Walls, director of product management, Panasonic Computer Solutions Company. "The Toughbook H1 Field was designed based on extensive customer input to ensure it had the right mix of form factor, features and durability to maximize worker productivity and value. With so many features that exceed the performance capabilities of competitive products, we believe the Toughbook H1 Field is best positioned to meet the computing needs of highly mobile workers, along with their IT administrators."
The Panasonic Toughbook H1 Field includes a 500 nit, 10.4″ dual-touch display that offers both tablet and touchscreen functionality. The display also includes a circular polarizer, plus anti-glare and anti-reflective screen treatments, making it easily viewable in direct sunlight. Weighing only 3.4 lbs, this mobile computing platform features 2GB of RAM and a 64GB reinforced flex-connect solid state drive.
The Toughbook H1 Field offers exceptional ergonomics, including a Panasonic designed system that comfortably cradles the hand between the device and its molded hand strap. Other ergonomic features include a well-balanced center of gravity, integrated handle, thoughtful placement of integrated features and lack of hotspots, making the device safe and easy to use for long periods of time.
The Toughbook H1 Field offers a range of embedded wireless connectivity options including 802.11a/b/g/n Wi-Fi, Bluetooth 2.1 and Qualcomm's new Gobi2000™ technology which simplifies complex multi-carrier wireless deployments for IT departments. The H1 Field will be certified on the Sprint and Verizon Wireless networks, allowing workers to stay connected at all times. Other wireless carrier certifications will be announced soon.
The Toughbook H1 Field includes multiple security features, including options for a contactless or insertable SmartCard reader and a fingerprint reader, helping to ensure that critical data is kept secure.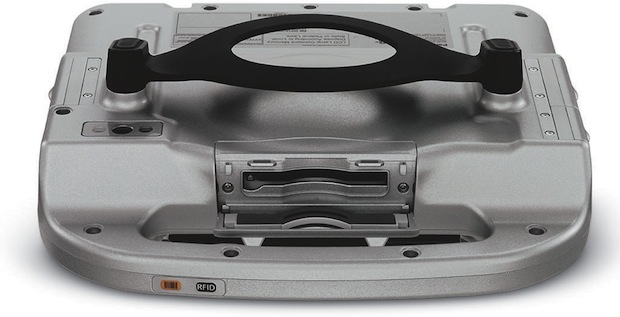 The Toughbook H1 Field is available with a variety of productivity enhancing accessories such as carrying cases, shoulder straps, charging devices, and Toughbook tested vehicle mounting solutions. The handheld tablet can also be equipped with next generation GPS technology allowing for location-based services with improved accuracy, faster satellite acquisition time and lower power consumption.
Panasonic Toughbook H1 Field: Select Features and Specifications
Genuine Windows 7 (with XP Tablet downgrade option)
Intel Atom™ processor Z540 (1.86GHz)
2GB RAM
64 GB reinforced flex-connect Solid State Drive SSD
10.4″ XGA sunlight-viewable 500 nit dual-touch LCD
Circular polarizer with anti-glare and anti-reflective screen treatments
6 hour battery life
Twin hot-swappable batteries
3.4 lbs (with both batteries)
Fully-Rugged

MIL-STD-810G certified (6 foot drop)
Magnesium alloy chassis — encased in polycarbonate
IP65 certified sealed all-weather design
Reinforced flex-connect Solid State Drive (SSD)
Wide operating temperature range (-20°C ~ 60°C or -4°F ~ 140°F)

Embedded Connectivity

Optional integrated WWAN / Gobi2000™ mobile broadband (EV-DO and HSPA)
Intel WiFi Link 5100 802.11a/b/g/n
Bluetooth v2.1 + EDR

Integrated Options

Global positioning system (GPS) receiver
2D barcode reader (also 1D capable)
2.0 megapixel auto-focus camera with dual LED lights
RFID reader

Optional Security Features

Fingerprint reader
Contactless SmartCard reader
Insertable SmartCard reader

Integrated docking connector
10.4″ (L) x 10.6″ (W) x 1.3″ – 2.3″ (H)
Pricing and Availability
The Panasonic Toughbook H1 Field will be available worldwide in March 2010. In the United States, the base Toughbook H1 Field model is expected to be available at an estimated street price of $3,379 from authorized Panasonic resellers and distributors.
The Toughbook H1 Field is backed with a 3-year standard warranty and lifetime technical support.