Panasonic Unveils World's First Zirconia In-Ear Headphones for Audiophiles
The world's first high fidelity in-ear headphones made of Zirconia, model RP-HJE900, will be introduced in the U.S. this Spring Panasonic announced. Designed with the expertise of Technics sound engineers, these premium in-ear headphones are made with Zirconia to give audiophiles pure sound in a durable and stylish design.
A sound chamber made of Zirconia has less resonance than plastic or aluminum. As a result, the RP-HJE900 in-ear headphones deliver ultra-clear sound reproduction with virtually no distortion. In addition to realistic sound, the durability of Zirconia offers audiophiles a scratchproof, ultra-tough construction for a lifetime of use. They even have detachable wires which can be replaced if they fray, as the Zirconia headphones outlast wires in the long run.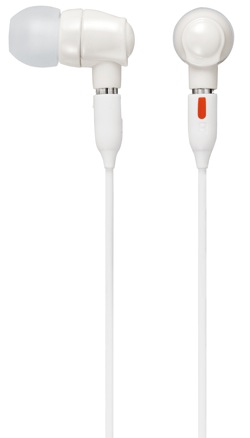 The RP-HJE900 in-ear headphones are constructed with Neodymium magnet for rich and powerful sound. They boast an impressive frequency response of 6Hz-26kHz for realistic sound with precision highs and rich low end. They have a sound pressure sensitivity of 100dB, impedance of 26 Omega and 12.5 mm drivers. The cord also has a slider to prevent tangling.
Zirconia is a white crystalline oxide of zirconium dioxide (ZrO2). It is an extremely durable substance which can withstand extreme temperatures and is used as a thermal barrier coating in jet turbine and diesel engines.
The RP-HJE900 Zirconia Audiophile In-Ear Headphones are available in either black or white. They will be available in May 2009, with a suggested retail price of $229.99.