Affordable Full High Definition Home Theater Projector
Panasonic today announced the debut of its newest LCD home theater projector with 1080p (1,920 x 1,080 pixel) native resolution: the PT-AE4000U. Designed for savvy home theater enthusiasts and audio video professionals who desire an immersive home entertainment viewing experience, the new projector delivers 1080p images with remarkable detail and clarity with 1,600 lumen brightness and 100,000:1 contrast ratio.
The new PT-AE4000U is the next evolution of its award winning predecessor, the PT-AE3000U, which has been widely accepted for its Hollywood tuned high picture quality and innovative features such as the Lens Memory, which prompted more users to use 2.35:1 wide aspect screens. The new projector further expands the way projectors can be enjoyed at the comfort of your own homes with the enhanced Intelligent Lens Memory, VIERA Link and programmable 12V triggers. Bringing the original picture quality intended by Hollywood movie and television directors to consumer's homes — AE series continues to deliver new ideas to the home theater market.
Beautiful Picture Quality with Increased Dynamic Range
The PT-AE4000U comes equipped with Panasonic's new optical system that's designed to display beautifully detailed images with a captivating 100,000:1 contrast ratio and 1,600 lumens of brightness. The new and exclusive Red-Rich Lamp increases the overall luminance efficiency of the projector, thereby realizing 50 percent brighter Cinema Picture modes compared to its predecessor. When producing desirable color purity/balance required for rich color reproduction, the lamp's red luminance determines the level of brightness output. The newly engineered lamp successfully embodies added red luminance, enabling the projector to produce significantly brighter images with excellent color reproduction. In addition, the refined Pure Contrast Plates effectively aid the polarization filter to block unwanted light leakage creating deep blacks and fine shadow details.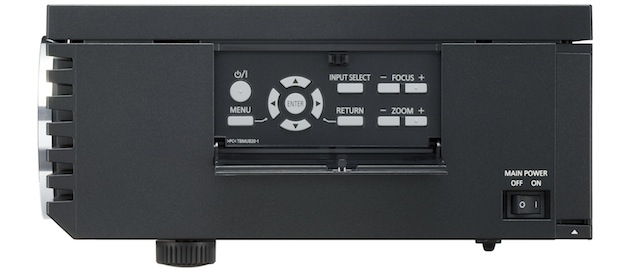 Together with a host of carefully engineered Panasonic technology, including the high precision optical lens unit, Dynamic Iris, Pure Color Filter Pro, and Smooth Screen Technology, the PT-AE4000U truly distinguishes itself when compared to other home theater projectors.
Powerful Digital Processing Engine with Professional-Level Features
Frame Creation interpolates an additional frame by analyzing the characteristics of adjacent frames, creating sharp and clear images of fast moving scenes in sports and action movies. The new Frame Creation 2 feature now incorporates blur reduction technology that decreases motion blur even further for faster moving objects. For crisp motion images with high resolution, users may set their frame count preference to 120 frames/1 sec from 60 frames/1sec for 60Hz video signal input, while 24 frames/sec (24p) signals are quadrupled to 96 frames/1sec by interpolating three additional frames to allow natural frame-to-frame transitions.

Panasonic's proprietary Detail Clarity Processor 3 has also taken a leap forward. The new engine now has an advanced image analysis capability which allows the projector to distinguish the type of image it's receiving with exceptional accuracy. This enables the projector to optimize the processing applied to different parts of the image to bring out fine details and three dimensionality for natural, life-like images with excellent clarity. The new LCD projector also comes equipped with several professional-level features that let users calibrate and personalize the images they see on the screen to match their viewing environment. For example, the projector's Advanced Gamma Adjustment allows the users to freely control the output and input level of the gamma curve. The PT-AE4000U Waveform Monitor –seen mostly on professional video and film equipment, measures the level of brightness from a given video signal source. This feature automatically verifies if the source device is outputting at full dynamic range, and quickly makes adjustments to optimize viewing for your home theater environment while making it easy to see a graphical representation of any changes made to the color settings.
Flexible Installation and Easy & Smart Operation
Many Blu-ray discs and DVD discs come in aspects that are even wider than the projector's 16:9 aspect ratio to match the image size (2.35:1) seen at movie theaters. The new Intelligent Lens Memory feature makes it possible for users to easily program up to six different zoom/focus positions. Automatic switching between 16:9 and 2.35:1 video contents is made possible thanks to the new signal aspect detection capability on the PT-AE4000U.
More theater automation (i.e., lighting, motorized screen, etc.) is possible with the PT-AE4000U as it comes equipped with two programmable 12V trigger terminals and VIERA Link. The VIERA Link realizes seamless operation of multiple VIERA Link compatible Panasonic devices by controlling them via the PT-AE4000U remote control with back-lit buttons.
The PT-AE4000U is equipped with three HDMI™ inputs (supports x.v.Color™ and Deep Color), so multiple HD sources can be connected without an HDMI switcher.

Initial setup and installation are quick and simple, as the 2.0x zoom can cast a 120-inch diagonal image from as short as 3.6 meters (about 11 feet) to 7 meters (24 feet) from the screen. The projector's lens shift capability enables 100 percent vertical adjustment and 40 percent horizontal adjustment so that viewers can suspend the projector either close to the ceiling or on wall mounts. The lens-centered design and maintenance features such as the replaceable side filter and top lamp, make the projector easy to install and maintain.
Eco Friendly Intelligence
In addition to its outstanding features, the new PT-AE4000U is also an ecologically conscious product. The intelligent power management system within the projector reduces the lamp power to the exact required level of brightness depending on what content is displayed. Panasonic's advanced built-in digital circuitry intelligently determines the necessary power output by analyzing more than 3 billion different image patterns. This advanced analysis process reduces the main power consumption by as much as 10 percent when the dynamic iris function is in operation thus saving energy.
Other ecological considerations include an off-timer that reduces wasteful power consumption, as well as an extremely low standby power consumption of 0.08 W, which is the lowest in its class.
The Panasonic PT-AE4000U 1080p high definition home theater projector is made in Japan and will be available in the United States this month from authorized dealers with an MSRP of $2,499.