Three New Dual Cameras with an Easy-To-Hold Vertical Design, Optimal for Shooting High-Quality Stills or Full HD Videos
Panasonic announced three new Dual Cameras, the HX-WA10, the HX-DC10 and the HX-DC1, all which have an easy-to-hold vertical design, making it easy and seamless to shoot full-High Definition videos (1920 x 1080) or photos — without having to switch between the two settings as there are separate video/photo capture buttons. The HX-WA10 is waterproof down to approximately 10 feet making it extremely versatile, and the HX-WA10 and HX-DC10 models include Panasonic's Backside Illumination (BSI) technology, which allows for optimal shooting in dimly-lit conditions.
Panasonic's three new HD camcorders record video in the MPEG-4 AVC file format (MP4), which is convenient for uploading images to the Internet or editing on a computer. Beyond the full-HD video capabilities, the HX-WA10 and HX-DC10 also offer 16-megapixel still photos, while the HX-DC1 takes 14-megapixel photos — resulting in high-quality images. All three models can take 2-megapixel still photos while shooting full-HD videos. Despite being compact in size, all three models have a powerful 5x optical zoom, giving the user more range when shooting video and photos.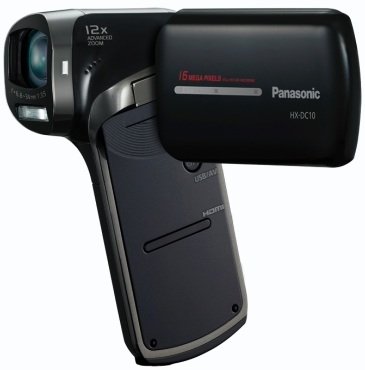 All three models are almost the same, except for the megapixel difference and waterproof feature of the HX-WA10.
Other features of the three new Panasonic Dual Camera models include:
2.6-inch wide LCD monitor for the HX-WA10, and 3.0-inch wide LCD monitor for the HX-DC10 and HX-DC1
Electrical Image Stabilizer to help limit blurry videos
Panasonic's iA (Intelligent Auto) mode
Face Detection
Stereo microphones for clear audio recording
Mini HDMI Terminal for enjoying even more beautiful Full-HD resolution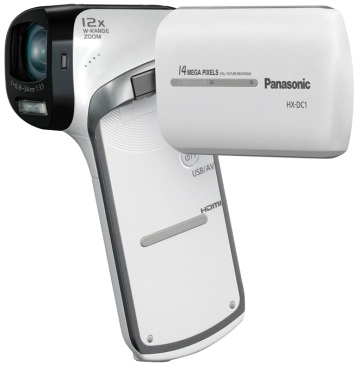 Price and Availability (Update)
The new models will be available in early July 2011 in the following color options:
$349.99 → HX-WA10 in black, orange, blue
$279.99 → HX-DC10 in black
$199.99 → HX-DC1 in white, pink and dark grey