Panasonic Integrates Its Industry-Leading Plasma HDTVs With Cutting-Edge Blu-ray Technology To Deliver The Ultimate Home Theater Solution
SECAUCUS, NJ – Panasonic, a leader in the development of Blu-ray Disc™ technology, announced the debut of its first-ever Blu-ray Disc player (DMP-BD10), matching receiver (SA-XR700) and speaker system (SB-TP1000). Each will be available at retail in September 2006.
While sold separately, these three products are designed to work seamlessly together as a complete high definition home theater system. Each has been designed to optimize the benefits of Blu-ray Disc technology when integrated with Panasonic's industry-leading Plasma HDTVs. For high definition entertainment optimization, Panasonic will also debut its first 1080P-capable 65-inch Plasma display (TH-65PX600) in fall 2006.
"The debut of our first Blu-ray Disc High Definition Home Theater solution, combined with Panasonic's Plasma TVs, allows us to offer consumers the most advanced and complete integrated home theater solution available," said Reid Sullivan, Vice President of Panasonic Consumer Electronics Company's Entertainment Group. "Panasonic is proud to be a leader in the development of cutting edge Blu-ray technology, which is the most significant technological advance in home entertainment since the arrival of the DVD almost a decade ago."
Blu-ray Disc technology delivers a significantly richer entertainment experience across a broad range of audio and visual elements including extraordinary image and sound quality. Blu-ray Disc is supported by more than 170 leading companies in electronics, computers, video games, recording media, music and movies.
The Panasonic Blu-ray Disc High Definition Home Theater system components feature Panasonic's proprietary EZ-SyncTM system. The system provides HDAVI Control for integrated one-touch operation of 2006 Panasonic Blu-ray Home Theater components. In addition, the receiver and player components are designed to visually complement the speakers and Plasma TV display.
Panasonic Blu-ray Disc Player (DMP-BD10) — The DMP-BD10, Panasonic's first Blu-ray Player, with an SRP of $1299.95**, delivers superior high definition digital image quality. Key features include:
Extraordinary Image — Panasonic's proprietary P4HD technology performs IP conversion at the pixel level for the finest details. In addition the DMP-BD10 incorporates a 296MHz, 14bit Video D/A Converter that provides high quality 4x oversampling for 1080i/720p output. Noise shaping video processing shifts the noise component to an unused band to further boost the signal-to-noise ratio. Because of technologies like these, the DMP-BD10 can theoretically reproduce up to nearly 4400 billion colors.
High Capacity — Blu-ray Discs provide five times more disc capacity than a standard DVD (25 GB* of storage on a single disc and up to 50 GB* on a double layer disc) providing more storage for high definition movies, TV shows, music concerts and other programming, plus additional space for other added-value content.
Backward Capability — Plays a variety of optical discs including DVDs and CDs and up-converts video playback from DVDs to 1080P, by using HDMI.

Panasonic Blu-ray Disc Receiver (SA-XR700) — The SA-XR700, Panasonic's first Blu-ray matching receiver, with an SRP of $999.95, delivers extraordinary sound quality for a dramatic and immersive home theater listening experience. Key features include:
Full-Digital Amplifier and Advanced Dual Amplifier with up to 7.1 channels.
Powerful Stereo Mode with 100w/channel (20 kHz, 6 ohms, 0.09% THD)
192 kHz/24-bit Audio A/D Converter for Analog Input
DVD-Audio Ready for High Quality Sound (88 kHz Reproduction, S/N 103dB)
Wireless Ready
XM satellite-ready
3 HDMI connections: 2 in, 1 out
6 Channel Discrete Inputs
Gold-Plated Terminals and high performance components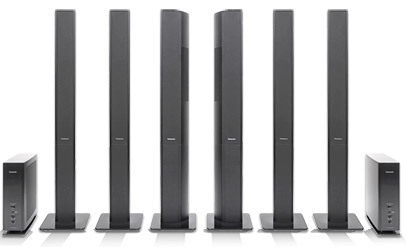 Panasonic Home Theater Speaker System (SB-TP1000) — Designed to complement and optimize the Panasonic Blu-ray Disc High Definition Home Theater system's audio capabilities, the SB-TP1000, with an SRP of $2999.95, delivers rich, true-to-life surround sound for movies, concerts and audio CDs alike. The system includes front speakers, surround speakers and a subwoofer. Key system features include:
Twin Center Speaker Technology — Enables you to accurately hear dialog from the center of the Plasma screen — regardless of listening position — without a separate center channel speaker.
Clarity and Range — 32 streams of audio deliver outstanding surround audio that optimizes Blu-ray's potential.
Versatility — The SB-TP1000 enables wall mounting or free standing configurations depending on the consumer's decor and preference.
Large Speaker Terminals
DVD-Audio Ready, Wide Frequency Range
"The launch of our first Blu-ray Disc High Definition Home Theater underscores Panasonic's commitment to bringing consumers ground breaking home entertainment options," said Martin Kono, President of Panasonic Consumer Electronics Company. "With the debut of our Blu-ray-based components and their integration with our Plasma displays, Panasonic has once again raised home entertainment solutions to a whole new level."
About Panasonic Consumer Electronics Company
Based in Secaucus, N.J., Panasonic Consumer Electronics Company is a Division of Panasonic Corporation of North America, the principal North American subsidiary of Matsushita Electric Industrial Co. Ltd. (NYSE: MC) and the hub of Panasonic's U.S. marketing, sales, service and R&D operations. Information about Panasonic products is available at www.panasonic.com. Additional company information for journalists is available at panasonic.com/pressroom.
* 1GB = one billion bytes. Usable capacity will be less.
** All prices in U.S. dollars