Optoma has introduced the PT100, the first of its new PlayTime products designed to introduce a new audience to the advantages of projectors. The PT100, offering simple operation and enough power to deliver images up to 100″ in size, and is compatible with most video gaming consoles, DVD players, set top boxes, as well as with computers sporting a VGA output. Compact and weighing only 1.7 lbs., the PT100, will be available for Christmas holiday sales and have an end-user price of $199.
"Creating new products and product categories to broaden our reach is important for the growth of the projector market," said Jon Grodem, Optoma's senior director of product and marketing. "We're leading the charge to reach new users by developing innovative products, such as our Pico and GameTime projectors, rather than just continuing to operate within the same traditional category boundaries. And PlayTime is our latest effort."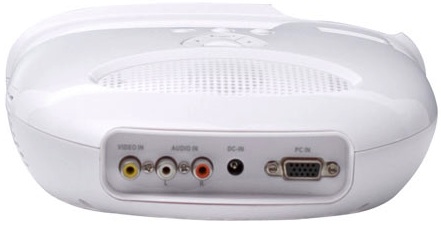 According to Grodem, The PT100 is designed to deliver a big image and low cost. The PT100, which measures 7.76″ x 3.15″ x 7.84″ (WxHxD), utilizes an efficient LED light source that has a lifespan of up to 20,000 hours and delivers images from 12″ to 100″ diagonally in a native widescreen 16:9 format, which is popular for video games and movies. A built-in 1.5 watt speaker eliminates the need for an external audio system.
Said Grodem, "We've felt for some time that it was important to lower the entry barrier for new users, and we're excited we've been able to create the PT100 as our first PlayTime product."
The easy to use PT100 provides portable big screen fun when connected to game consoles, computers, video players and even hand-held devices. Project a 60″ widescreen image onto a wall or ceiling from less than 10 feet away. Instantly turns on and off and runs at a cool temperature so it can be conveniently moved from room to room. The PT100's low power consumption is about 10% that of a 42-inch LCD television. Take it with you wherever you go and let the fun follow.
Features
16:9 wide screen display (854×480 native resolution)
Built-in speaker
LED light source for excellent color and a long lifetime of over 20,000 hours
Versatile VGA and audio/video inputs mean you can connect the PT100 to:

Video game consoles*
Computers
DVD players
Cable and Satellite receivers
Digital still and video cameras
VCRs
Specifications
| | |
| --- | --- |
| Display Technology | DLP® |
| Resolution | Native WVGA (854 x 480) |
| Brightness (Bright Mode) | 50 ANSI Lumens |
| Contrast Ratio | 800:1 (Full On/Full Off) |
| Light Source | LED (RGB); Estimated Life of Over 20,000 Hours |
| Projection Distance | 24″ to 144″ |
| Image Size (Diagonal) | 10″ to 100″ |
| Audio | One 1.5 Watt Speaker |
| Computer Compatibility | XGA, SVGA, VGA, PC and Macintosh Compatible |
| Video Input Compatibility | NTSC, PAL |
| I/O Connectors | VGA, Composite Video, Audio (L/R RCA), DC Input Jack |
| Weight | 1.7 lb (770 g) |
| Dimensions | 7.76″ x 3.15″ x 7.84″ (197mm x 80mm 199mm) |
| Power In | DC 12V 2.0A |
| Power Consumption | 24 Watts (Bright Mode) |
| Warranty | 90 Days Limited Parts and Labor |