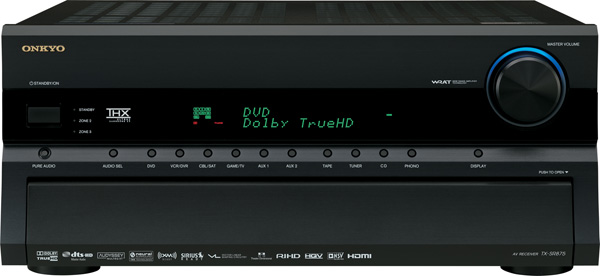 San Jose, CA–(April 24, 2007)–Silicon Optix, the leader in programmable video processors, announced today that Onkyo has significantly raised the bar for video performance in A/V receivers with the addition of the Reon-VX HQV video processor in two of their models. Onkyo's TX-SR875 has a MRSP of $1,699 and will ship in June, while Onkyo's TX-NR905 has a MRSP of $2,099 and will ship in August.
"We are going to shake up the receiver market with our new line of products. One of the key additions is HQV processing. We selected HQV processing because it delivers the best image quality in the industry, providing the maximum quality from both high-definition and standard-definition sources, " said Paul Wasek, Onkyo's Marketing Manager.
HQV's true 1080i-to-1080p HD deinterlacing delivers the sharpest, most detailed HD images possible by employing per-pixel motion-adaptive algorithms and a sophisticated multidirectional diagonal filter that ensures video free from jagged edges. The powerful HQV processing engine also provides per-pixel motion-adaptive noise reduction, detail enhancement, and advanced scaling, delivering premium-quality upconversion of SD material.
About Silicon Optix
Silicon Optix is a leader in programmable, high performance video processing and unique and proprietary geometry processing IC solutions delivering Hollywood Quality Video (HQV). Silicon Optix ICs can be found in top-tier consumer electronics products such as high resolution displays, premium DVD players, ultra-thin RPTVs and front projectors. Teranex, a division of Silicon Optix, is a leader in programmable video processing systems-level solutions for the professional broadcast and post production markets. Silicon Optix is headquartered in San Jose, California with offices around the world. For more information visit www.siliconoptix.com, www.teranex.com, and www.hqv.com.
About Onkyo
Onkyo, which means "'audio' or 'sound' in Japanese, has been producing precision audio components for over a half-century. The company's philosophy is to deliver products that are superbly designed and built to a consistently outstanding standard of excellence. Today, Onkyo is at the forefront of the home theater and digital revolutions. For more information about this and other fine Onkyo products, visit or call 800-229-1687.