Olympus FE-4020
Smart, Entry-level Cameras with Autofocus Tracking and In-Camera Creative Filters
Olympus just introduced two new cameras to its popular FE series, designed for effortless picture taking for users of all ages and skill levels. The new FE-4020 and FE-47 come with 14 megapixels for super-high resolution, up to 5x optical zoom and a host of in-camera features to make photography simple so you can keep your mind on the action when you're in the middle of it. Intelligent Auto mode plus Shadow Adjustment technology automatically selects the settings you need so you know the shot will come out right without making adjustments. AF Tracking keeps kids, pets and other fast-moving objects continually bright and in focus so you can easily capture great shots.
"Whether you're snapping photos of a backyard soccer game or a get-together with friends, these new FE cameras do the thinking for you so you won't miss a moment," said Jennifer Schmell, product manager, Olympus Imaging America Inc. "Intelligent Auto automatically chooses the right mode for your picture, while Magic Filter turns your images into works of art."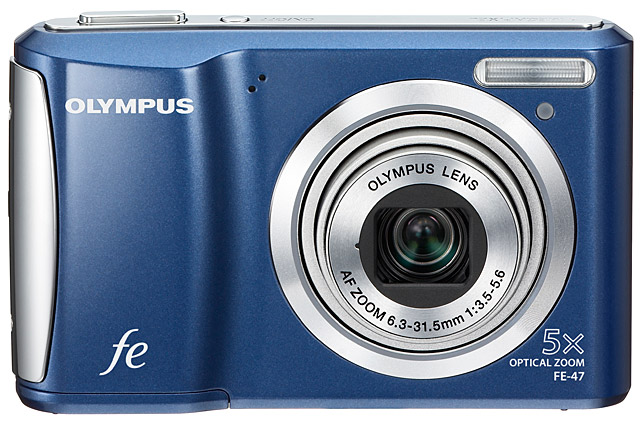 Olympus FE-47
With 14 Megapixels Get More for Your Money
Both FE cameras come out shooting with 14 megapixels of resolution. Now, you can enlarge your favorite images with crystal clear detail intact. Isn't it time you started decorating with your own artwork?
Always Stay Focused
The AF Tracking technology locks your subject in focus, and continuously adjusts focus and brightness whether you or your subject is moving. This enables you to keep fast-moving, unpredictable subjects like small children in focus for the perfect shot. There's even a specially designed AF Tracking "Pet Mode" for animal lovers.
Because everyone who was there deserves to be in focus, all FE cameras feature Advanced Face Detection, which reduces the chance of blurred subjects in pictures by distinguishing between people's faces and the background. It tracks up to 16 faces within the image area and automatically focuses and optimizes exposure for sharp, brilliant portrait pictures (ideal for large family or group photos).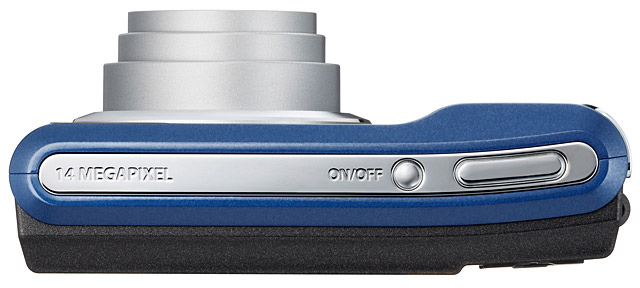 Olympus FE-47
Capture More of the Photo You Want
Being unable to back away from your subject has always been a challenge. Now, thanks to wide-angle zoom lens technology, it's easy to capture everything and everyone — including group shots at weddings, family reunions and dinner parties. The FE-4020's versatile lens starts extremely wide and goes to 4x (26mm — 105mm equivalent in 35mm photography). The FE-47 features a 5x (36mm — 180mm equivalent) zoom lens.
Develop Your Inner Artist with Magic Filter
In-camera Creative Filters, called Magic Filter, enable users to enhance and customize images as they're being captured. This translates into more fun and flexibility as customization is no longer limited to using expensive and time-consuming computer software. The new Magic Filter includes:
Pop Art — Enhance and saturate colors to create vivid, high-impact pictures that express the joyful, lighthearted feeling of the Pop Art style of the 1960s;
Pin Hole — Reduce the peripheral brightness of an image as though it were shot through a pin hole, connecting the viewer intimately with the subject at the center;
Fish-Eye — Emulates the wide-angle of a fish-eye lens by taking extremely wide, hemispherical images and magnifying the center of the frame; and
Drawing — Turn your image into a sketch outline for children to color.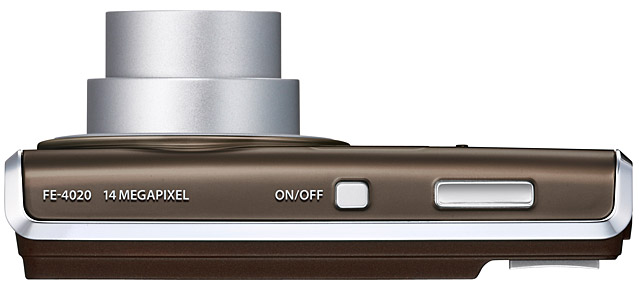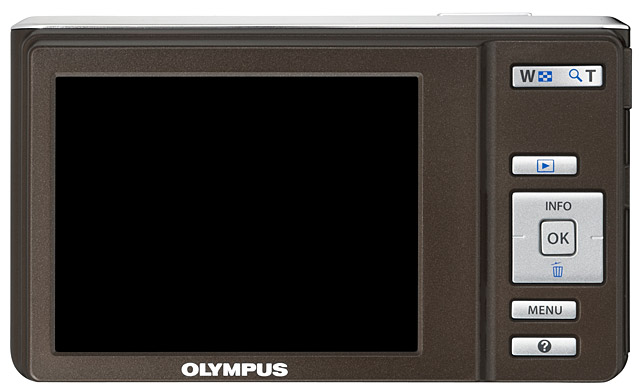 Intelligent Auto Thinks for You
The FE cameras' 'Intelligent Auto Mode' automatically identifies what you are shooting (Portrait, Landscape, Night + Portrait, Macro or Sports) and adjusts settings to capture the best quality results depending on the situation. Keep your eyes and mind on what's in front of you, let your camera do all the technical thinking and take incredible shots like a pro.
Easy Operation and Help Guides
Enhanced Help Guides are built right into the cameras to make learning about digital photography simple for users of all skill levels. The Menu and Scene Guides display a brief description of camera settings and features on the LCD to make more advanced techniques such as adjusting ISO and white balance settings using the Program Auto mode fun and easy. Additionally, Exposure Compensation enables users to preview and select various exposure effects on a live, multi-frame window on the LCD before snapping the shot, allowing users to see precisely what an image will look like when adjustments are made. Program Auto and Exposure Compensation are great modes that enable novice users to get results like the pros while learning about the effects of different photography techniques. Menus are available in English, Spanish and 37 other languages for convenient operation.
AVI Movie with Sound
With these FE cameras, users can capture AVI movies with sound that are easy to share with family and friends via email or on social networking websites.
OLYMPUS [ib] Software
All Spring 2010 digital compact cameras, including the FE series, will offer the new OLYMPUS [ib] software. The new software includes photography workflow, browsing, editing and unique photo-organizing functions. You can organize your photos by person with automatic face recognition technology, by location with a Geotagging function or by event. The name [ib] stands for image bridging, image browsing and image brightening. The new software will be available for Windows operating systems only.
SD Compatibility
Olympus' new Spring 2010 digital compact cameras offer SD capability for up to 32 gigabytes of capacity.
Sleek Portable Bodies in a Range of Colors
The new FE cameras are as high fashion as they are easy to use. The FE-4020's sleek double-layered crystal shell utilizes silk printing and a pearlized mirror finish to give the cameras an elegant, transparent feel. The cameras come in a variety of colors to suit everyone's style. The FE-4020 is available in warm gray, pearl white, light pink and light blue, while the FE-47 comes in silver, black, red and blue.
Availability
The FE-47 will be available in January 2010 and the FE-4020 will be available in February 2010. The FE-4020 camera includes a Lithium-Ion Rechargeable Battery, and the FE-47 includes two AA alkaline batteries. Both cameras also include a USB Cable and Charger, Audio/Video Cable, Wrist Strap, Quick-Start Guide, OLYMPUS [ib] Software and Instruction Manual CD-ROM, and Warranty Card.
U.S. Pricing
FE-4020 Estimated Street Price: $149.99 (U.S.)
FE-47 Estimated Street Price: $119.99 (U.S.)

Olympus FE-4020


Olympus FE-47