NVIDIA announced today NVIDIA® 3D Vision Pro, a new 3D stereoscopic solution empowering engineers, designers, architects and computational chemists who work with complex 3D designs to see their work in greater detail. 3D Vision Pro solutions brings true stereo 3D back to the desktop with support for LCD panels and offers a practical way to provide a rich, reliable 3D viewing experience for large scale visualization environments like video walls and collaborative virtual environments (CAVEs).
The new 3D Vision Pro solution is designed to work in a professional production environment like a creative studio or visualization center — anyplace where there are, for example, multiple people doing stereoscopic 3D in the same space. In an environment like that, infrared creates issues, because there's too much interference. Instead, NVIDIA has designed 3D Vision Pro to use radio frequency (RF) to control the glasses. The glasses connect to the 3D Vision Pro hub the way a wireless keyboard and mouse connect to your computer, making them perfect for multi-user environments.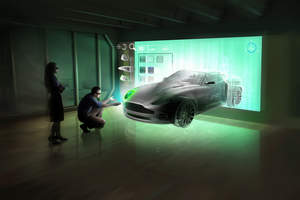 Incorporating active shutter glasses and an innovative radio frequency (RF) communication system, 3D Vision Pro solutions delivers the highest quality stereoscopic experience and supports a wide range of use cases:
Individuals can experience 3D on LCD panels at their Quadro powered desktop and mobile workstations
Small groups can view 3D on single or multiple projectors, and
Larger groups can experience 3D on power walls or in theaters driven by NVIDIA Scalable Visualization Solutions (SVS)
3D Vision Pro provides long range connections, up to 150 feet, with no cross talk, blind spots, or other transmission issues between multiple systems. As a professional stereoscopic solution, status information is transmitted from the glasses back to the host for effective IT management.
NVIDIA 3D Vision Pro — A New Way of Looking at Things
Digital content creation (DCC) artists, product designers, and physicians can see their 'world' in 3D, with perspectives that are significantly richer than traditional two-dimensional views. Physicians, for example, can now view volumetric scans like ultrasound in 3D. Businesses looking to provide large scale visualizations such as popular video walls now have a reliable, enabling technology to deliver that kind of experience.
Key features of NVIDIA 3D Vision Pro stereoscopic solutions include:
Active shutter glasses technology that delivers a true progressive image, which preserves the highest quality texture detail and text;
Rechargeable batteries with 20 hours of continuous operation;
Wide range of panel and projector support, and;
A wide range of professional application support.
Pricing and Availability
NVIDIA 3D Vision Pro stereoscopic solutions will be available in October:
NVIDIA 3D Reviews
From Critics Around the Web