NuForce announced the Cube, a 2-inch tall mobile speaker for music lovers on the go, offering a great-sounding portable speaker, headphone amplifier, and USB Digital Audio Converter (DAC) all in one.
Speaker:
NuForce incorporated a very high-quality speaker driver, which they claim blows cheap plastic, low-quality portable speakers out of the water. With the Cube, listeners no longer have to sacrifice great sound for portability. Despite its small 2″ cube frame, the Cube offers audio detail, depth and dimension other portable speakers simply aren't designed to deliver. You'll hear the character of your favorite singer's voice, the clarity and fine details of the musical instruments, the squeaky floor in a horror movie, or the subtle rumbling of the race car engine.
USB DAC:
The Cube's USB digital-to-analog converter (DAC) accepts digital music directly from the computer and bypasses the computer's on-board DAC, which are often low-quality and result in compromised sound, to offer a major improvement over the sound quality.
Headphone Amp:
The Cube's finely optimized amplifier circuit takes the audio to a new level, providing plenty of power to drive even the most power-hungry set of "cans". It helps ensure that the headphones provide all the clarity, detail and power they're designed to deliver.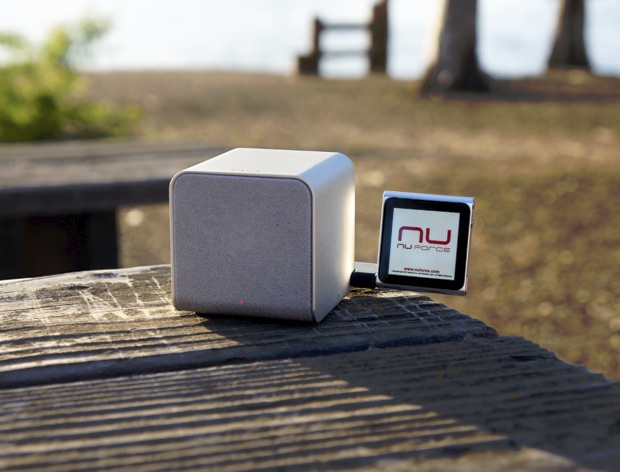 NuForce Cube Portable Speaker with iPod nano connected
Specifications
Battery: Rechargeable Lithium Battery
Operation Time: 8 hours
Dimension: 58.5mm x 58.5mm x 60.0mm
Watts: 3W
Available Colors: Black, Silver, Red, Blue
Included Accessories: 3.5mm stereo cable 0.6M, USB Cable 0.7M, soft carrying pouch
Price and Availability
The NuForce Cube is available now for $119. See more portable speakers.