Nokia today announced a high-end smartphone with a 41-megapixel camera called the 808 PureView. It is the first smartphone to feature Nokia PureView imaging technologies, bringing together high resolution sensors, exclusive Carl Zeiss optics and Nokia developed algorithms, which will support new high-end imaging experiences for future Nokia products.
The Nokia 808 PureView features a large, high-resolution 41-megapixel sensor with high-performance Carl Zeiss optics and new pixel oversampling technology. At standard resolutions (2/3, 5 and 8 megapixels) this means the ability to zoom without loss of clarity and capture seven pixels of information, condensing into one pixel for the sharpest images imaginable. At high-resolution (38 megapixel maximum) it means the ability to capture an image, then zoom, reframe, crop and resize afterwards to expose previously unseen levels of details. With superior low-light performance and the ability to save in compact file sizes for sharing in email, MMS, and on social networks, the Nokia 808 PureView makes it possible for anyone to capture professional looking images in any conditions.
In addition to superior still imaging technology, the Nokia 808 PureView, also includes full HD 1080p video recording and playback with 4X lossless zoom and the world's first use of Nokia Rich Recording. Rich Recording enables audio recording at CD-like levels of quality, previously only possible with external microphones. The Nokia 808 PureView also features exclusive Dolby Headphone technology, transforming stereo content into a personal surround sound experience over any headphones and Dolby Digital Plus for 5.1 channel surround sound playback.
"Nokia PureView imaging technology sets a new industry standard by whatever measure you use," said Jo Harlow, executive vice president of Nokia Smart Devices. "People will inevitably focus on the 41 megapixel sensor, but the real quantum leap is how the pixels are used to deliver breath-taking image quality at any resolution and the freedom it provides to choose the story you want to tell."
Outside the camera, the smartphone offers the latest Nokia Belle operating system with Feature Pack 1 enhancements. These enhancements allow improved performance, personalisation and entertainment options, with a new browser, the latest Nokia Maps and an improved notifications bar. One other great new feature is that the phone can deliver content recorded in surround sound to any stereo headphones, using technology from Dolby.
The screen is a four-inch, ClearBlack AMOLED display underneath Gorilla Glass, allowing for a big clear view of what's going on, under any lighting conditions. Inside, there's a 1.3GHz processor to keep everything humming. There's 16GB of internal user memory, with support for MicroSD cards up to 32GB to contain all the pictures and video you'll be shooting.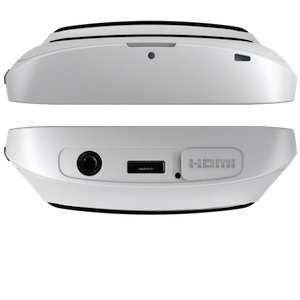 The device is remarkably pocketable considering how much there is inside. It's only slightly larger than the Nokia N8 while the total weight, including the battery, is 169g. Talk time (over a 3G network) is rated at 6.5 hours, with a standby time of up to 540 hours.
Price and Availability
Nokia 808 PureView Smartphone will be available in white, red or black. Pricing and availability TBD. Learn more about PureView Imaging Technology (pdf). Also see specifications.